News and updates
Mount Kilimanjaro Hike- An infographic guide for beginners!

The post Mount Kilimanjaro Hike- An infographic guide for beginners! appeared first on Africa Joy Tours.

Delicious, Mouth-Watering Foods to Try When in Tanzania

No holiday trip is complete without trying a few delicious, mouth-watering treats! This is especially true if you're visiting Tanzania this year. Home to some of the most beautiful countries in the world, Africa is no stranger to tantalizing dishes...

The Best Places to Visit in Tanzania This Year

Tanzania is the gem of Africa. It's one of the most beautiful places on earth. But more than that, it boasts incredible land and seascapes, all ready to be explored. From the gorgeous, white, sandy beaches of Zanzibar Archipelago, to the powerful, snowy...

5 days Zanzibar beach Tour and vacation packages

DEPARTURE: SCHEDULED AND TAILOR-MADE DEPARTURE DATES DURATION: 5 DAYS ACCOMMODATION: LODGES GROUP SIZE: MINIMUM 2+ PEOPLES NOTE: Travel Insurance is compulsory for all safaris CREATE YOUR OWN TOUR ITINERARY INCLUDES % EXCLUDES BOOK THIS TOUR...

5 Day Best of Victoria Falls and Chobe National Park

This tour allows you to explore the best that Victoria Falls, Zimbabwe and Chobe National Park, Botswana has to offer. Each an icon in its own right, the tour gives you a complete experience with a dinner cruise on the mighty Zambezi River, an elephant...

8 days Elewana luxury Sky Safari

SUMMARY ITINERARY PRICE INCLUDES & EXCLUDES BOOK THIS TOUR SUMMARY This 14 day tour offers exceptional sites in the heart of Southern Africa. The Kruger National Park is a wildlife experience that is arguably the best in Africa. The iconic...

Kilimanjaro Trekking, Why is it popular

Kilimanjaro Trekking  is popular. It's probably the most popular high altitude trek in the world. The reason for Kilimanjaro popularity is obvious: It is the highest mountain in the world that you can simply walk up. You need no ropes, no special climbing...

17 Day Ultimate Southern Africa Luxury Holiday

Experience the ultimate luxury journey in Southern Africa: beaches, winelands, Victoria Falls and a big game safari. Your amazing holiday starts with four days in Cape Town followed by a gourmet retreat in the Cape Winelands. Then it's on to an elegant...

3 Day Chobe National Park tour Package

SUMMARY ITINERARY PRICE ICLUDES / EXCLUDES BOOK THIS TOUR SUMMARY This 3-day Chobe Safari Package is a great weekend getaway or a great add-on to a longer safari or your tailor-made adventure. You get to explore the stunning area of the Chobe National...

While sunny skies, sandy beaches and the warm Indian Ocean all come standard on a Mauritius holiday, a closer look will reveal that there's far more diversity on this beautiful little island than you might think. The easiest way to decide where to go...
Africa Joy Tours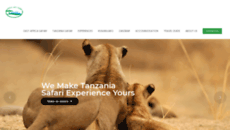 Visit africajoytours.com
Online
Catch up on Africajoytours.com news, updates and popular pages. Africajoytours.com has issued 3 articles this month. It is highly rated by users from Tanzania. Africajoytours.com is a domain not yet properly estimated by Alexa. Africa Joy Tours provides generally secure and family-safe content, so users of all ages can visit it.
Mount Kilimanjaro Climbing ...
N/A
Daily visitors
N/A
Daily pageviews
N/A
Alexa rank
MyWOT
Africajoytours.com popular pages
Related feeds
Ultimate Africa Safari Memories
Recently updated websites