News and updates
Top 5 Tips for Improving Your Association Website

We've been told since the dawn of time that first impressions are important, and it isn't any different for websites. When someone visits your society or association website, they should be getting a snapshot of who you are as an organization. What's...

Parasite Paintings and More at the Annual ASP Event in Cancun

BY PETER BURNS Artwork, T-shirts, and jewelry raise thousands for students at annual ASP auction At a glance, the painting looks like an iconic beach scene: a palm tree, a boat drifting offshore. But something is not right. Is that a giant worm wriggling...

Allen Press Wins Five Awards at World's Most Prestigious International Print Competition

LAWRENCE, Kan. – June 20, 2018 – Allen Press, Inc. is the recipient of five awards from the Printing & Imaging Association's (PIA) Premier Print Awards Competition. With over 2,000 entries, the PIA Premier Print Awards is the most prestigious international...

Dreaming Big: Young entrepreneur sets out to conquer the publishing world

BY LACI WRIGHT Ava Middleton learns more about digital printing after tour at Allen Press School's out for the summer which normally means vacations, swimming, and hanging out with friends… well, not for these super kids. Ava Middleton, Rider Middleton...

Allen Press Recognized as Best Printing Services Company in Lawrence

Lawrence, Kan. – June 25, 2018 – Allen Press, Inc. was awarded first place in the Printing Services category and third place in the Advertising/Marketing Services category of the annual Best of Lawrence competition. The company was also listed in the...

6 Sustainable Printing Facts for World Environment Day

BY BRITTANIE SMITH Each year on June 5, World Environment Day is observed and celebrated in over 100 countries. Since 1974, the United Nations has used this day to promote awareness about the protection of our environment worldwide. The World Environment...

Allen Press Installs World's Fastest Stitcher

LAWRENCE, Kan. – May 30, 2018 – Allen Press, Inc. is excited to announce the purchase of a Muller Martini Tempo 22 Saddle Stitcher. The Tempo 22 is among the world's fastest saddle stitchers, producing up to 22,000 booklets per hour. The acquisition...

Colleen Gregoire Joins Allen Press as Marketing Strategist

LAWRENCE, Kan. – May 22, 2018 – Allen Press, Inc. is pleased to announce the addition of Colleen Gregoire as Marketing Strategist. Colleen brings over 20 years of experience in print and digital marketing, graphic design, direct mail and program development...

Jeffry Lewis Promoted to Vice President, Information Systems and Technology

LAWRENCE, Kan. – May 17, 2018 – Allen Press, Inc. is pleased to announce that Jeffry Lewis has been promoted to Vice President, Information Systems and Technology. Jeffry joined Allen Press in December 2014 as a Database Developer and has worked in the...

Journal Open Access and Reuse: An Interview with Kevin Smith

While the open access model seems simple in principle, there are countless implications for journal publishers to consider. One of the most hotly debated issues in scholarly publishing today is article reuse and permissions – what can readers do with...
Allen Press, Inc.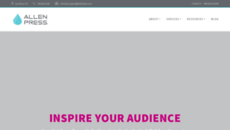 Visit allenpress.com
Online
Catch up on Allenpress.com news, updates and popular pages. Allenpress.com has issued 1 new article this week and 5 articles this month. It is highly rated by users from USA and United Kingdom. Allenpress.com is a website attracting a fair amount of visitors (estimated traffic is around 126K visitors per month). Allen Press provides generally secure and family-safe content, so users of all ages can visit it.
Allen Press, Inc. uses top-notch commercial printing, content publishing and precision marketing services to help organizations make their stories come alive..
4 154
Daily visitors
8 308
Daily pageviews
224 984
Alexa rank
MyWOT
Allenpress.com popular pages
Related feeds
Apple Newsroom from Apple, Inc.

Inspiration | Robert Allen
Recently updated websites