News and updates
Forest Lake Pest Fishing, Nov 2015

After a couple of storm related postponements last Summer Brisbane City Council is giving it another go! If you missed out last year BCC will open Forest Lake to fishing for one day on Saturday, November 21 so that we can remove some feral fish and spread...

Fossils of 100-million-year-old giant cooyoo fish found near Julia Creek

original story by Ash Moore, ABC Fish fossils dating back 100 million years have been discovered in north-west Queensland. The discoveries were made on a property near Julia Creek and have now been prepared for display at the Kronosaurus Corner museum...

Mosquitofish populations with more females have greater ecological impact

Original story by Tim Stephens, University of California - Santa Cruz. Scientists investigating ecological consequences of sexual dimorphism and sex ratio variation in mosquitofish populations found dramatic effects. Female mosquitofish are not only...

Brisbane River Field Trip, Saturday 28 March 2015 Facebook event here

Forest Lake Pest Fishing, Feb 2015 – POSTPONED

Unfortunately BCC has had to postpone the Pest Fishing Day due to extreme weather from Tropical Cyclone Marcia. The Council is hoping to set a new date in the next few weeks. We'll let you know the date once it's been approved. If you missed out last...

This meeting we'll have two guest speakers who have traveled the state in search of creatures that swim. Both presentations will be an excellent lead up to the Forest Lake Pest Fishing Day on February 21. Glynn Aland will give us a talk about the feral...

Fishy fossil found in north west Queensland creek bed

Original story by Hailey Renault and Bridget Judd, ABC Rural An ancient fossil, believed to be more than 100 million years old, has been uncovered on a cattle property in Queensland's north west. The two-metre fossilised fish, known as Richmondichthys...

Melanotaenia splendida splendida, Mt Poverty

Youtube video by Ken McDougall Mt. Poverty Melanotaenia splendida splendida in a 1000 lt tub.

Cane toads evolving into 'straight hoppers' accelerating advance

Original story by James Purtill, ABC News Cane toads in the Northern Territory and Western Australia have evolved "very very rapidly" to hop in a straight line and cover up to six times more ground than distant cousins back in Queensland, scientists...

Fish failing to adapt to rising carbon dioxide levels in ocean

Original story at The Guardian Spiny damselfish study suggests it would take at least several generations for fish to start coping with climate change. Rising carbon dioxide levels in oceans adversely change the behaviour of fish through generations...
ANGFA Queensland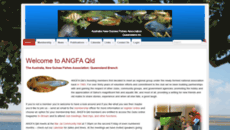 Visit angfaqld.org.au
Online
Catch up on Angfaqld.org.au news, updates and popular pages. It is highly rated by users from USA. Angfaqld.org.au is a recently registered website that might be still building its audience and thus rated quite low by Alexa. ANGFA Qld provides generally secure and family-safe content, so users of all ages can visit it.
The home of ANGFA Qld. The Australia New Guinea Fish Association, Queensland branch..
N/A
Daily visitors
N/A
Daily pageviews
3 613 194
Alexa rank
MyWOT
Angfaqld.org.au popular pages
Recently updated websites