News and updates
Flavour of the month – Scrumptious Salmon Fishcakes

In our latest Flavour Of The Month, Head Chef Melissa Menns shares the recipe for her Salmon Fishcakes. Give it a go for a chance to win a meal for two in our Circle Restaurant… Ingredients Serves 2 200g of skinless salmon, cut into 1.5cm chunks ...

Recognize this fearless girl? Matilda The Musical returns to the Midlands

Football wasn't the only thing coming home this week as Matilda The Musical returned to the Midlands for the first time since creation in Stratford-upon-Avon. The multi-award winning show had its world premiere at the RSC's home in Stratford-upon-Avon...

Everybody say YEAH! Casting announced for Kinky Boots

Birmingham Hippodrome is delighted to announce casting for the upcoming UK tour of Kinky Boots. Kayi Ushe will play the role of Lola, Paula Lane, known for her role as Kylie Platt in Coronation Street, will play Lauren and Joel Harper-Jackson will play...

War Horse star Joey stops off at historic canalside stables in Birmingham

Following eight record-breaking years in London's West End and having played in 11 countries around the world to over seven million people, the National Theatre's acclaimed play War Horse will make its trumphant return to Birmingham Hippodrome from Wed...

Welcoming a season of stories at Birmingham Hippodrome

Yesterday, we opened up our doors for an exciting evening of sneak peeks and extra special guests (including a four-legged friend).  Our yearly Season Taster, hosted by radio presenter Ed James and our Artistic Director and Chief Executive Fiona Allan...

Setting sail for Neverland – the stars of this year's swashbuckling pantomime, Peter Pan, are announced!

We are thrilled to reveal our star line-up for this year's must-see festive family production of Peter Pan, the high-flying pantomime adventure, starring Jimmy Osmond, Meera Syal, Matt Slack, Jaymi Hensley, The Timbuktu Tumblers and Sascha Williams,...

Summer in Southside, our free family festival, returns!

Let's get silly in Southside! It's back! Birmingham Hippodrome's two-day family festival Summer in Southside heads back to the carefree days of childhood with a programme full of FREE fun for kids of all ages (that's grown-up kids too!). On the weekend...

Stimulating conversations over lunch

The first of many Creative Conversations at Birmingham Hippodrome A week ago at Birmingham Hippodrome, we started a new series of Creative Conversations. The idea is to contribute more actively to the wider regional debate about the social and economic...

Full casting announced for Matthew Bourne's Swan Lake

We're delighted to announce casting Matthew Bourne's new production of his legendary Swan Lake, which visits Birmingham Hippodrome from Tue 5 – Sat 16 Feb 2019. New Adventures' star Will Bozier, currently dancing to great acclaim as 'Harry, the Pilot...

Forging a legend…Re-tracing Titanic's lost links to Birmingham and beyond…

With West End and Broadway success story, Titanic The Musical, currently stirring the emotions on our Main Stage, we look back on the fascinating story of Birmingham's own historic links to the most legendary ship in the world… Among the parts of the...
Birmingham Hippodrome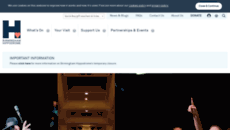 Visit birminghamhippodrome.com
Online
Catch up on Birminghamhippodrome.com news, updates and popular pages. Birminghamhippodrome.com has issued 1 new article this week and 8 articles this month. It is highly rated by users from United Kingdom. Birminghamhippodrome.com is a website attracting a fair amount of visitors (estimated traffic is around 55K visitors per month). Birmingham Hippodrome provides generally secure and family-safe content, so users of all ages can visit it.
Birmingham Hippodrome is one of the largest touring theatres in the UK. Book for the best musicals, dance, opera, ballet & Birmingham's favourite pantomime..
1 792
Daily visitors
10 752
Daily pageviews
364 011
Alexa rank
MyWOT
Birminghamhippodrome.com popular pages