News and updates
Blindside Networks hosting iMoot 2015

Blindside Networks is providing the hosting for BigBlueButton for iMoot 2015 — the largest fully on-line Moodle conference. You can follow all the action on the twitter feed #imoot15 Here's a screen shot of Martin Dougiamas giving the keynote address...

BigBlueButtonBN Moodle Plugin supports Moodle 2.9

Moodle 2.9 has just been release. We've updated our BigBlueButtonBN plugins to support Moodle 2.9. Click here get the latest versions of the plugins.

Installation video for BigBlueButton

To help others in the community setup their own BigBlueButton server, we've made this tutorial video based on the latest installation instructions. See: Enjoy!

Events in 2015 where you can meet us in person

We have a busy year ahead for conferences and events in 2015 (see: Events). Most of these events are learning and educational technology conferences and we are also an exhibitor. If you are planning to attend any of these events and are interested in...

Updates to the Sakai Meeting Tool

Blindside Networks updated the Sakai Meeting Tool (BigBlueButton integration) with the following new features Wait for moderator (rooms can now be set so students can't enter until a moderator enters) Hide duration iCalendar options for notification...

Blindside Networks is once again providing commercial support for BigBlueButton to iMoot, the international on-line Moodle Moot. iMoot 2014 is completely on-line conference with attendees and presenters from all over the world. All 70+ sessions are...

For a while, we've offered video files of recordings on our hosted platform for BigBlueButton, as an alternative to the standard HTML5-based format. (Also check out details on our hosted BigBlueButton offering.) Over the past week, some updates...

Video Playback of a BigBlueButton Recording

As part of our professional hosting for BigBlueButton we also create video files of the recording. These video files are playback on the desktop and on iOS and Andriod devices (phones and tablets). The playback of a video includes the chat...

BigblueButton 0.81 -beta released

We are pleased to announce that BigBlueButton 0.81 has reached beta. This release represents over twelve months of development, with a focus to add features while at the same time making the product easier to use. See the beta announcement for more...

Demonstrating BigBlueButton Sakai Integration at Apereo 2013

We attended the Apereo 2013 conference and demonstrated the latest version of the Sakai Meeting Tool which Jesus Federico (pictured above) supports. It was great to see the Sakai used by 11 of the top 26 universities in the world.
Blindside Networks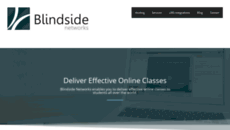 Visit blindsidenetworks.com
Online
Catch up on Blindsidenetworks.com news, updates and popular pages. It is highly rated by users from USA and Colombia. Blindsidenetworks.com is already a fairly successful and well-visited website (estimated traffic is around 463K visitors per month). Blindside Networks provides generally secure and family-safe content, so users of all ages can visit it.
Deliver Effective Online Classes Blindside Networks enables you to deliver effective online classes to students all over the world. Built for online learning What do Instructure, Moodle, Jenzabar, and...
15 234
Daily visitors
18 281
Daily pageviews
71 737
Alexa rank
MyWOT
Blindsidenetworks.com popular pages
Uncategorised – Blindside Networks

October 9, 2015 by admin-wp Uncategorised The BigBlueButton project recently announce the release of BigBlueButton 1.0-beta, which includes polling, improved video dock, emoji icons, and support for...

June 23, 2016 by admin-wp Release Blindside Networks, the company that started the BigBlueButton project, and eLearning Experts, a certified Moodle Partner, announce a partnership to provide integra...
Recently updated websites