News and updates
New DJI Goggles RE for FPV racers

Yesterday DJI unveiled the DJI Goggles RE (Racing Edition), the ultimate FPV goggles ideal for drone racing. Similar to its predecessor – the "standard" DJI Goggles- it has all its unique features: dual 1080p HD screens, head tracking, touchpad, HDMI...

Betaflight 3.2 version released

Just a few days ago a new final version of the most popular flight controller firmware Betaflight was released. The new Betaflight 3.2 version brings a lot of improvements, new features and more supported flight controllers. We will quickly go through...

In the past few months, T-Motor has updated their F-Series motors by offering a Pro version and third generation of the popular F40 motor. We decided to do a quick comparison between both motors, so you can decide which one fits better your drone. First...

BetaflightF4 Flight Controller is available

 Few weeks ago FPVmodel.com opened the pre-order for the new Betaflight F4 flight controller. It is the next generation of an F405 MCU based AIO flight controller and is finally in stock right now. The "processor" / MCU of the flight controller was...

FrSky R-XSR–New ultra mini receiver

FrSky has recently announced their new ultra mini receiver – FrSky R-XSR. If you are using FrSky transmitter like Taranis X9D or Taranis Q X7 you should have a look at this tiny new receiver. According to FrSky, the new R-XSR receiver is "the evolution...

After having built many quads of the Avantquads brand, I wanted to build a lightweight 5" quad with good components. I immediately stopped on the latest model Avantquads Xero S5M – a 5" frame weighing only 63 grams in total. The components for the drone...

Recently we decided to update the firmware of our non-EU FrSky Taranis X9D, so it will be fully compliant with European regulations. In this tutorial, we will explain the differences between the international and EU firmware as well as show you how to...

BLHeli_32 was announced a few months ago and currently more and more ESC manufacturers are presenting their BLHeli 32 ESC. Before we start with the comparison of the current best BLHeli32 ESCs, let's have an overview what is new in the BLHeli32 firmware...

DJI Student discount for drones

Just a few years ago when I was at the university I can remember how happy I was about student discounts for Microsoft, Apple or HP products. At that time DJI was just starting to get more popular with the first Phantom, but no discounts were available...

Top 5 Betaflight F4 flight controllers

More than an year ago I published an article about the best Cleanflight flight controllers. I have listed a lot F1, F3 and some F4 flight controllers, which were available at the end of 2015. Meanwhile Betaflight is the more popular and developed firmware...
DroneHiTech.com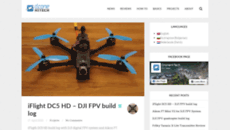 Visit dronehitech.com
Online
Catch up on Dronehitech.com news, updates and popular pages. It is highly rated by users from USA and India. Dronehitech.com is a website that might be still building its audience and thus rated quite low by Alexa (estimated traffic is around 15K visitors per month). Drone Hi Tech provides generally secure and family-safe content, so users of all ages can visit it.
Drone News, Reviews, How-To's and FAQ.
483
Daily visitors
483
Daily pageviews
1 143 013
Alexa rank
MyWOT
Dronehitech.com popular pages
News, Reviews, How-To's, Opinions and more…

Drone News, drone reviews, How-To´s and FAQ

DroneHiTech.com – RC LiPo Battery Guide

LiPo batteries are the power source for most RC drones. If you are going to build your first drone, want to achieve longer flight time or have better perfo
Recently updated websites