News and updates
6 Tips for First Time Home Buyers

Your home will probably be the most expensive and important purchase you ever make. That's why it helps to prepare and research the home buying process to make sure you do things right from the start. Looking back on my own experience from a few years...

Client Review: Katherine Levonja

Katherine Levonja  NMLS ID: 1148321 kleandrou@elyons.com 516.589.3995 Read what our clients are saying about Lyons Business Development Manager, Katherine Levonja: Katherine Levonja was a dream come true. We had already met with two other mortgage...

Warmest greetings to all friends and neighbors celebrating Easter this week!  This festive season is a time of re-birth and renewal.  Welcoming the spring season draws all our communities together to rejoice and renew our commitment to our shared goals...

5 Most Common Social Media Mistakes That Real Estate Agents Make

How can I use social media effectively to build my real estate business? Let's start by talking about five of the most common mistakes real estate agents make in their social media strategy.  When you know what the mistakes are, then you can avoid them...

The Casil Report: A Financial Commentary on the Mortgage Markets

Good afternoon, Today, Monday (02/05/18): The 10 Year Treasury Yield dropped to 2.82%, meaning moderately lower mortgage rates than Friday. - The January 2018 U.S. ISM (Institute for Supply Management) Non-Manufacturing (Services) Index increased to...

Lyons Mortgage Wins BEST OF THE BORO 2018

Lyons Mortgage Services, Inc. has been honored with the Best of the Boro in Mortgage Companies 2018 Award. This is the 2nd year in a row that Lyons has won this widely popular reader's choice awards, where visitors to local Queens websites and publications...

Mortgage and Housing Outlook: 2018

by Stephen Casil Vice President Secondary Marketing Manager scasil@elyons.com Where do I see mortgage rates going in 2018? According to the Freddie Mac Weekly Primary Mortgage Market Survey (PMMS), the average 30 Year Fixed Mortgage Rate dropped by...

2017 was a special year for everyone at Lyons Mortgage!  Let's take a look back at some of the most memorable moments and events of the year. Here's the top 6... Lyons President, Nicos Tziazas, was honored at Terrace on the Park at the KING OF QUEENS...

Conforming Loan Limits Increased for 2018

On November 28, 2017, the Federal Housing Finance Agency (FHFA) announced that it would raise the baseline conforming loan limit for 2018 for New York and for most counties across the country. This is in response to significant housing price gains during...

Queens Real Estate Outlook: 2018

The Queens real estate market has increasingly made headlines for new developments and ever-increasing growth.  Long Island City and Astoria were numbers 8 and 9 on the list of hottest New York City neighborhoods, according to PropertyShark.  The median...
Lyons Mortgage Services, Inc.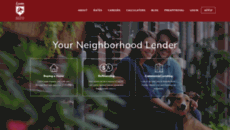 Visit elyons.com
Offline
Catch up on Elyons.com news, updates and popular pages. Elyons.com is a website that might be still building its audience and thus rated quite low by Alexa (estimated traffic is around 4.9K visitors per month). E Lyons provides generally secure and family-safe content, so users of all ages can visit it.
We make the process of securing a mortgage simple and straightforward by offering honest advice and understand that every borrower is different. We offer a variety of loan programs to meet your unique...
161
Daily visitors
483
Daily pageviews
9 556 896
Alexa rank
MyWOT
Recently updated websites