News and updates
"Slowly and very simply; not, very slowly and simply." —Sir András Schiff

(click to enlarge) Inspired by Denis Matsuev

(click to enlarge) I should probably explain that this is also one of the reasons I haven't been very active lately: don't shoot the pianist is auditioning this year. (Best wishes as well to everybody else putting in applications this year!)

Is it too late to get him onto the ballot…?

(click to enlarge) I am a terrible person.

Thought: if a mobile phone rings in the middle of a performance of 4'33", is it still considered a breach of concert etiquette?
don't shoot the pianist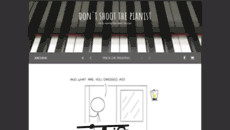 Visit euge.ca
Online
Catch up on Euge.ca news, updates and popular pages. It is highly rated by users from USA. Euge.ca is a website that might be still building its audience and thus rated quite low by Alexa (estimated traffic is around 3.7K visitors per month). Euge provides generally secure and family-safe content, so users of all ages can visit it.
he is doing the best he can.
120
Daily visitors
967
Daily pageviews
4 352 274
Alexa rank
MyWOT
he is doing the best he can
Recently updated websites