News and updates
Launching today! The Summer of TAG Allergy-Friendly Kitchen Contest opens July 9th.

Join Canadian race car star Alex Tagliani, in the Summer of TAG 2018, as he races across Canada and helps to raise awareness about food allergies! Through this joint initiative, undertaken by Alex and Food Allergy Canada, with the support of Pfizer Canada...

Updated call for participants: Immunotherapy study for peanut allergy

The research team at Inflamax Research in Mississauga, Ontario is seeking children (5-11 years of age) and youth (12-17 years of age) with a peanut allergy, and no history of anaphylaxis, to participate in a new investigational immunotherapy study for...

Call for participants: Latex allergy study

A latex allergy study is underway at Inflamax Research in Mississauga, Ontario. They are seeking healthy adults to participate in this study. As there is cross-reactivity with latex and some foods, like banana, avocado, chestnut, and kiwi, some members...

Mythbuster: Are "may contain" allergen labels mandatory in Canada?

Is it true that if there is a chance of cross-contamination of an allergen in a pre-packaged food, companies must label the product with a "may contain" warning? Not currently. Allergen precautionary statements such as a "may contain" (or similar) statement...

Participate in our many webinars offered this month! Plus, be sure to check out the support group meetings happening in June! You can also read about Angela's journey with food allergy and why she started up a support group in Moncton. Upcoming webinars...

Latest news from Food Allergy Canada – June 2018

We've launched the Summer of TAG, with race car star Alex Tagliani! This year's theme is around allergy-friendly kitchens – be sure to check out exclusive allergy-friendly recipes created by MasterChef Canada 2017 finalist Thea Vanherwaarden and Registered...

Ask the expert: I'm concerned my child's weight is too low – what should I do?

Linda Kirste is a Registered Dietitian. She works at HealthLinkBC where she operates the Allergy Nutrition Service ― a tele-practice-based service that provides nutrition education, as well as counselling and follow-up care for residents of British Columbia...

Advocacy and research – June 2018

Make sure your voice is heard! Participate in an important study that's looking at the costs involved in living with food allergy. Find out about our recent advocacy efforts, and be sure to check out our mythbuster which asks the question, "Are "may...

Ways to give: Making a difference at an early age

For her 7th birthday last month, Jackie Sidel decided fundraise for Food Allergy Canada (through EchoAge) as a way to support her younger brother, Eli, who has multiple food allergies. Jackie understands the impact of managing food allergies on a daily...

Raising awareness at any age: 10-year-old showcases food allergies at school wellness night

Luke Melendez is only 10 years old, but he's proving that age is just a number when trying to raise awareness of food allergies. Allergic to dairy, eggs, peanuts, and tree nuts, Luke ran a booth at his school's recent Wellness Night in order to create...
Food Allergy Canada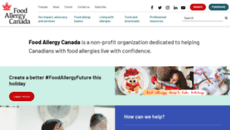 Visit foodallergycanada.ca
Online
Catch up on Foodallergycanada.ca news, updates and popular pages. Foodallergycanada.ca has issued 1 new article this week and 2 articles this month. It is highly rated by users from Canada. Foodallergycanada.ca is a website that might be still building its audience and thus rated quite low by Alexa (estimated traffic is around 15K visitors per month). Food Allergy Canada provides generally secure and family-safe content, so users of all ages can visit it.
Food Allergy Canada educates, supports and advocates for the needs of people living with food allergies and the risk of anaphylaxis..
483
Daily visitors
483
Daily pageviews
1 253 725
Alexa rank
MyWOT
Foodallergycanada.ca popular pages
Related feeds
Living With Food Allergies! Recipes and More!

The Food Allergies Blog helps keep you up to date on new recipes and articles to assist you with living with allergies. Wheat free, gluten free, egg, dairy free and more.

A Site All About Food, Food Allergies and Restaurants

Writing about my nickel food allergy
Recently updated websites