News and updates
Baking a Sponge Cake is an art and even most seasoned cooks sometimes struggle to get the right spongy texture. Generally all cake recipes require using egg to make it soft, and due to this, baking a cake at home [...] Related recipes: Chocolate Cake...

Capsicum Rice (Capsicum Pulao)

Capsicum Rice or Capsicum Pulao, a quick and easy to make spicy rice dish, is perfect way to bring a change to your routine rice dishes. Unlike other Pulao Recipes, this recipe uses a approach of sautéing the soaked Basmati [...] Related recipes: Soya...

Tomato Pasta (Pasta In Red Sauce)

Tomato Pasta in Red Sauce is one of the simplest and easiest pasta to make at home. In this recipe, Tomato Pasta is prepared by first cooking Penne or Fusilli Pasta to Al Dente perfection and then cooking them with [...] Related recipes: Tomato Pasta...

Mint raita, a popular Indian style simple Mint Dip made from fresh mint leaves and curd (plain yogurt) is a perfect accompaniment for stuffed parathas, various types of pulaos and vegetable biryani. It is also known as Pudina Raita as [...] Related recipes...

This is yet another variant of Rasam, which is a must have item with steamed rice in lunch or dinner in Southern India. In addition to being hot and spicy, Tomato Rasam also has a tangy flavor due to tomato. [...] Related recipes: Pepper Rasam Garlic...

Eggless Chocolate Chip Cookies

These eggless chocolate chip cookies are a bliss for the people who don't include the egg in their diet as they either follow specific diets like vegetarian or have an allergy to eggs. Chocolate Chip Cookies prepared with this recipe [...] Related recipes...

Palak Soup Recipe (Spinach Soup) – is a healthy and delicious way of savoring the goodness of green spinach leaves. Making Palak Soup at home is very easy as it requires only few ingredients, requires very little process and takes [...] Related recipes...

Cakes are generally made with Egg to give it a soft and moist texture. However, for strict vegetarians, vegans and allergic person, this is a problem and can not enjoy the cake. This Eggless Chocolate Cake Recipe makes soft and [...] Related recipes...

Jalebi, a spiral shaped crunchy sweet dipped in saffron laced sugar syrup, is the traditional Indian sweet. It is generally prepared on the festivals like Diwali and Ramadan and enjoyed with milk or other Indian snacks. There are two ways [...] Related...

Methi Paratha, a shallow fried traditional Indian flat bread prepared from fenugreek leaves, whole wheat flour and gram flour, is a healthy alternative to Simple Paratha and one of the best Indian breakfast recipe. Methi Ka Paratha is not just [...]...
Foodviva.com: Best and Easy Indian Recipes with Step by Step Photos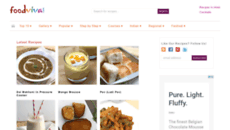 Visit foodviva.com
Online
Catch up on Foodviva.com news, updates and popular pages. Foodviva.com has issued 67 new articles this week and 67 articles this month. It is highly rated by users from India and USA. Foodviva.com is already a fairly successful and well-visited website (estimated traffic is around 311K visitors per month). Foodviva provides generally secure and family-safe content, so users of all ages can visit it.
Foodviva.com - Step by Step Recipes of North Indian and South Indian Vegetarian Curries, Chutneys, Rotis and Parathas, Snacks and Sweets, Fresh Fruit Juices, Smoothies and Milkshakes..
10 234
Daily visitors
14 328
Daily pageviews
91 149
Alexa rank
MyWOT
Foodviva.com popular pages
Recently updated websites