News and updates
Beamdog announced Neverwinter Nights: Enhanced Edition

After the full Baldur's Gate saga (of which we reviewed the Baldur's Gate: Enhanced Edition and Baldur's gate: Siege of Dragonspear, while Baldur's Gate II: Enhanced Edition is still pending review), Beamdog has not that long ago also launched the Planescape...

Cooler Master readies MasterWatt power supplies

Cooler Master has just launched what is indeed the true replacement for its aging GM series, the MasterWatt series. Next to the ultra high-end MasterWatt Maker and low-end MasterWatt Lite, the MasterWatt fits into the middle/top part of the mainstream...

Cooler Master launches showcase enclosure: MasterCase H500P

CoolerMaster has yet another MasterCase midi-tower enclosure, the MasterCase H500P (MCM-H500P-MGNN-S00), on the market. This one seems to be focusing on those users who like to see inside their case (or for others to see), kinda like a showcase (or show...

Silverstone brings golden Essential Series units

Silverstone has just introduced three new units to their Essential Series. This is no longer Strider Essential, or Strider for that matter, but a sepparate line, already available with 80 PLUS Bronze certified units. Although it is likely the Essential...

Cooler Master Cosmos C700P: the modular full tower tank

Cooler Master has finally launched a case, which could indeed be called modular. After all the Mastercase enclosures which were usually modular mostly on paper, the newewst Cosmos C700P (MCC-C700P-MG5N-S00) full-tower is modular from the very base: the...

New Enermax RevoBron with DC-DC to replace TriAthlor (Eco)

After the new high-end units, Enermax is also launching new mainstream series, the RevoBron, which is to repalce the TriAthlor series. Although Enermax calls them both superior quality 24/7, 40°C gaming units, my experience with the 300W TriAthlor was...

Preview: Cooler Master V850 – golden platform from Seasonic

After several versions of Cooler Master Vanguard/V Semi Modular units (V550S, revised V550S and the V650) ve are finally closing the saga with Cooler Master V850. This is member of the originally introduced batch of 80 PLUS Gold certified (@115 V) units...

Enermax MaxTytan: the new flagship series

Enermax has finally joined the league of manufacturers who offer 80 PLUS Titanium certified power supplies, with the Enermax MaxTytan series. Originaly the DigiTytan was the expected series, but it seems this one was abandoned in favour if MaxTytan....

Silverstone launches more Strider Titanium and also SFX Series units

During the last couple of weeks, Silverstone launched new products which were previously showed to us at CeBIT as well as other shows. (Though we did not make an article about CeBIT 2017 in the end, firstly because of lack of time, and secondly, the...

Preview: Cooler Master MasterWatt Lite 500 W

The Cooler Master MasterWatt Lite 500 W is currently one of the cheapest power supplies of their portfolio in Europe, replacing couple of their older series. Some of them vere far away from quality ones so there is definitelly some room for improvement...
Hardware Insights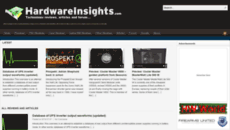 Visit hardwareinsights.com
Online
Catch up on Hardwareinsights.com news, updates and popular pages. Hardwareinsights.com has issued 1 article this month. It is highly rated by users from Indonesia and Russian Federation. Hardwareinsights.com is a website that might be still building its audience and thus rated quite low by Alexa (estimated traffic is around 7.3K visitors per month). Hardware Insights provides generally secure and family-safe content, so users of all ages can visit it.
Informative hardware and software reviews, interesting articles, and discussion forum.
242
Daily visitors
483
Daily pageviews
1 174 205
Alexa rank
MyWOT
Hardwareinsights.com popular pages
Recently updated websites