News and updates
Renovation ideas: ​A Greenside home gets a new look!

Today's homify 360° is an inspiring gem that is the result of a renovation. The professionals in charge? FORM ADD FUNCTION, an architectural team based in Orchards, Johannesburg. The name of their project? House Van Zyl in Clovelly road, Greenside. ...

Architects' advice on 3D house plans (in Pretoria)

Time and trend are changing, and so is technology. For a long time, pen and paper were the go-to mediums for construction designs, with traditional two-dimensional drawings being the norm. But thanks to major advances in digital technology, drawings...

Home decor trends for South African homes 2018

Times and trends are fleeting – what is considered "hot" today may be vintage and "over" in a few months' time, possibly even sooner. And that pretty much explains part of the reason why interior designers and decorators are so busy, doesn't it? But...

​The top 5 renovation projects for your home

Many homeowners are calling up renovation professionals here in South Africa in order to accommodate their changing needs and/or up the value of their homes. But while home improvements can definitely increase the asking price of a property (not to mention...

​Get creative with these 7 ceiling design ideas

It's no surprise that a room's floor, furniture and walls get all the attention – but that doesn't make it right. After all, when one considers the important task of a ceiling (something which all architects can agree on), doesn't it deserve just a little...

​Ideal interiors: Lounge decor ideas

How often does your living room / lounge become your home's number 1 socialising space? Every day? Once a weekend? Even though modern kitchens are up-and-coming entertaining spaces for many modern homes, they still have a long way to go before eclipsing...

​The 3D plans of a modern home in Fourways

For optimum results one requires a professional, regardless of the task at hand. Fortunately, Johannesburg-based MNM Multi Projects are just the pros to contact for homeowners who want professional, accurate and personalised services to make their homes...

​A modern inspiration in Morningside

CKW Lifestyle, Johannesburg-based interior design firm, is the professional team in charge of today's homify 360° discovery. The project? A large residential home (1250m2) in Sandton in need of modern décor and exclusive designer furniture. Let's see...

​12 beautiful colour combinations to try in your home

Tired of playing it safe with earthy beiges and creamy whites? Don't get us wrong, we love a good neutral colour palette, but sometimes one does want to go bold or bright with a few eye-catching tones, right? Well, 2018 seems to be a great year for...

13 ideas for kitchen tiles and walls

The kitchen doesn't need to be dull and unimaginative when it comes to decor, these 13 kitchen ideas will instantly enhance and upgrade your walls, whether its tiled or painted, simple or luxurious, open plan or spacious. We have a look at tips and tricks...
homify magazine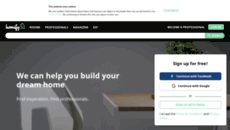 Visit homify.co.za
Online
Catch up on Homify.co.za news, updates and popular pages. Homify.co.za has issued 100 new articles this week and 100 articles this month. It is highly rated by users from South Africa and USA. Homify.co.za is a website attracting a fair amount of visitors (estimated traffic is around 92K visitors per month). Homify provides generally secure and family-safe content, so users of all ages can visit it.
homify is an online platform for architecture, interior design, building and decoration. homify offers everything you'll ever need, from the planning stage, up to the delivery of the keys to your...
3 025
Daily visitors
12 707
Daily pageviews
214 423
Alexa rank
MyWOT
Homify.co.za popular pages
Related feeds
homify is an independent platform for architecture, interior design, interior decorating and construction. homify connects the end user and professionals across the United Kingdom.

Online Digital Magazine Publishing Software | Subscriptions for Magazines

Best Online Magazine Publishing Software, Digital Magazine Apps for iPad, iPhone, Android, Tablets. Free Online Subscriptions for Magazines are big hit today with right technology to use it online for...

Just another WordPress site
Recently updated websites