News and updates
Welcome to WordPress. This is your first post. Edit or delete it, then start writing!

Kay Chemical Owner Lisa Oswald on NPR!

Our very own Lisa Oswald had the opportunity to speak on National Public Radio about the impact of the Republican National Convention on the Cleveland Area.  Take a listen:

Check back soon as we are getting ready to launch some GREAT new products.  More options for all of your hand cleaning needs are coming to Kay Chemical.  Stay tuned!

Kay Chemical is on the Sprint Car Circuit!

We are proud to announce that we have teamed up with AWC Motorsports out of Richmond, Indiana.  I had the pleasure of meeting their driver, Brandon Whited and his Family at Fremont Raceway in Ohio on May 3, 2014.  Stay tuned for updates on Brandon's...

Thanks to everyone who stopped by our booth at the IX Piston Powered Auto-Rama this weekend.  Frank Shaker of Second to None Auto Body & Frame Inc. in Cleveland, Ohio is the winner of our drawing for a case of 12oz K-GARD Hand Cleaner.  If you need...

Kay Chemical will be at the I-X Piston Powered Auto-Rama!

Make plans now to attend the I-X Center Piston Powered Auto-Rama in Cleveland, Ohio March 14-15-16, 2014.  Kay Chemical will have a booth featuring FREE samples of K-GARD and more.  For more information log on to https://www.pistonpowershow.com/  We...

K-Gard a sponsor of Krazy Paint Charity Event

Read more about this worthwhile event that took place that the VSRA Ohio National show in Medina:  http://www.hotrodandrestoration.com/e-news/21635/

July Special – 275 gallon tote

Stock up on K-GARD to get your shop ready for the busy summer season.  This month, we are offering a 275 gallon tote for only $3,400.00 with FREE SHIPPING!

Medina Ohio: 3rd Annual Ohio Nationals Car Show June 21-22, 2013

June 21-22, 2013  Kay Chemical will have a booth set up at the 3rd Annual Ohio Nationals Car Show.  Come on out to the Medina County Fairgrounds, 710 W. Smith Road, Medina Ohio for this great car & truck show, food, DJ, car corral, & swap meet...

Kay Chem Booths coming to Randolph & Hartville Market

Come on out to the Randolph Spring Bonanza this Sunday, June 9, 2013 beginning at 8:00am.  Kay Chemical will be set up selling K-Gard and Pool Chemicals at special show prices!  The show is located at The Randolph County Fairgrounds, 4215 Fairground...
K-Gard – "We Take Care of Hardworking Hands"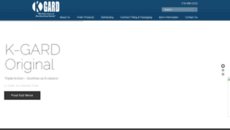 Visit kaychem.com
Online
Catch up on Kaychem.com news, updates and popular pages. Kaychem.com is a website that might be still building its audience and thus rated quite low by Alexa. Kay Chem is detected to be badware-infected, compromised or blacklisted, so you have to avoid this site until its safety profile improves.
K-Gard waterless hand cleaner.
N/A
Daily visitors
N/A
Daily pageviews
12 256 458
Alexa rank
MyWOT
Kaychem.com popular pages
Recently updated websites