News and updates
Kelly's Closet & Claire Pettibone: BBFFs – Best Bridal Friends Forever

At Kelly's Closet, we love everything about Claire Pettibone. Claire and I have been in this thing together since the beginning – both hers and mine – over a decade ago. My heart melted the first time I saw one of Claire's dresses.  It was love at first...

Position Available:  Sales Associate Kelly's Closet is looking for our newest Closeter! That's what we like to call ourselves over here. We're the Closeters. It's time to hire another one for our little posse, because the super busy bridal season is...

Our friends over at Overthemoonblog.com recently wrote a swoon-worthy article highlighting Christy and her now husband Rob Haile's wedding. The two tied the knot at their rustic wedding on Lake Rabun. Christy is a Closet alum! In July, she happened...

Sometimes the bride doesn't wait for the dress, the dress waits for the bride. Megan found this gorgeous Modern Trousseau gown at our Sample Sale last year. One look and you can tell the two are made for each other! So glad Megan popped in and left with...

Oh how we love a little sparkle in our lives! And we all know that no one does sparkle better than Jenny Packham. Our beautiful bride, Amanda, looked just lovely in her "Damask" gown from Jenny Packham. We love these pictures of her special day, so how...

These notes make our day.  Thank you Jennifer for trusting us during this special time.  Isn't she lovely? Photo cred: Perry Vaile Photography Dear the girls at Kelly's Closet, Thank you so much for your help and patience in finding me the perfect...

Catherine + Miguel in Turks and Caicos

Talk about dreamy. What's better than a beach wedding with a Claire Pettibone gown? How about one in gorgeous Turks & Caicos? A wedding on the bluest of water and a picture-perfect sunset to end the night- Catherine and Miguel's lovely wedding took...

Rustic Elegance at Old Edwards

Our bride Elizabeth had the most romantic wedding. Her low-back, lace Ivy &Aster dress was simply stunning on her and looked perfect with her overflowing bouquet. The shot of the ceremony in from of the stone fireplace? SWOON. Congrats, Elizabeth...

Oh, we love to see our brides happy! Emily was such a joy to work with. She needed a lace gown to match with her gorgeous family veil, and the Liancarlo gown she chose was just perfect. Throw in some lovely bridesmaids and a dashing groom and you've...

Valerie's photographer Lauren got it right when she described the bride: "Stunning. That's the one word I can use to describe Valerie. And oh, that dress! I've never seen anything like it! Still swooning!" Us too, Lauren. Us too. Valerie was a vision...
Kelly's Closet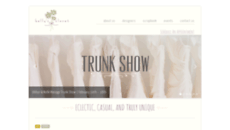 Visit kellyscloset.net
Online
Catch up on Kellyscloset.net news, updates and popular pages. Kellyscloset.net has issued 1 article this month. It is highly rated by users from USA. Kellyscloset.net is a website that might be still building its audience and thus rated quite low by Alexa (estimated traffic is around 3.7K visitors per month). Kelly S Closet provides generally secure and family-safe content, so users of all ages can visit it.
We're a funky little boutique in Candler Park that specializes in unique bridal gowns, but also dabbles in fun fashions for that special time in a lady's life. Our brides are looking for...
120
Daily visitors
483
Daily pageviews
4 390 466
Alexa rank
MyWOT
Kellyscloset.net popular pages
Recently updated websites