News and updates
If you blog, and are looking for some goodies to help you with the "business" of blogging then this fundraising package may help you, and it will help Braylan's family….. On April 13th little four year old Braylan was diagnosed with leukemia. He is the...

365 Ways to Connect With Your Soul-Author Interview Part 1

I was so blessed and honored to be a co-author in the book "365 Ways to Connect With Your Soul" which recently launched on Amazon. There were over 200 collaborating authors including bestselling authors Arielle Ford, Peggy McColl, Christy Whitman, and...

One of the new adventures at The ReFeathered Nest will be an occasional product review. The topics will vary and it should be fun and informative for you! Today's item comes from the category of Household Supplies: Our grill brush had seen it's last...

I know most people think of Spring as a time for new beginnings, or January as a time of new beginnings.   But I have always felt like Fall is a time of new beginnings.  Maybe it's reminiscent of my childhood days where Fall meant a new school year....

Dashes, Dots and Getting Out of the Rut

I woke up this morning with dashes and dots on my mind. I don't know if it was because of a movie the other day that mentioned Morse code or all the maps for vacation I've been looking at where the states are drawn off with dashed lines. There's a poem...

There's a quote from a movie (which I've never seen) that says "There's a difference between knowing the path and walking the path." ~Morpheus I've taken a couple of weeks or so off from  blogging.  I needed some time to clear my head, think about a...

7 Easy Steps to Having a Great Day

Great days rarely happen just by accident. They usually require a little preplanning and work if you want to make them worth remembering. Just as the path to a healthier body is pretty simple (no it's not easy), having a great day can be pretty simple...

5 Hints to Wake Up More Energized

Are you tired of feeling sick and tired when you wake up in the morning? The alarm rings and you have the choice of two scenes: You get out of bed thinking to yourself "I'm ready for this day!!" You moan, hit the snooze button, hit it again, and finally...

Empty Nest Survival Skills from Fat Guys In The Woods host

Today, I want to offer a bit of encouragement about truly defining your DREAMS and then doing every little bitty thing that it takes to make it happen! Let me tell you a story so grab a cup of hot java or tea, and sit back and read a while… Continue...

Devotion – Are you in over your head?

          I grew up thinking that adults had all the answers. My parents knew the answer to all my questions. When I was in school, the teachers had all the answers. Someone always knew all the answers. ==>Listen to the Audio Here<== But, somewhere...
» 7 Easy Steps to Having a Great Day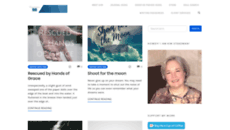 Visit kimsteadman.com
Online
Catch up on Kimsteadman.com news, updates and popular pages. Kimsteadman.com is a website that might be still building its audience and thus rated quite low by Alexa (estimated traffic is around 3.7K visitors per month). Kim Steadman provides generally secure and family-safe content, so users of all ages can visit it.
Create your ideal life! Discover the encouragement and tools you need to design the happier and healthier life you want and the one God intends for you to live! Discover your purpose and passions...
120
Daily visitors
483
Daily pageviews
6 381 225
Alexa rank
MyWOT
Kimsteadman.com popular pages
Here are 8 secrets to your success… Believe it or not, I got to thinking about these after reading about how to start little miniature flower gardens and what to use to help with drainage other than h...

Lethargy  feeling tired, run-down & moving slowly. Breaking lethargy can start with needing to take control of information overload.

I loved those words as a little girl. It meant a good story about  a princess and a prince and the wonderful words at the end "and they lived happily ever after." I continued my love for reading and e...
Recently updated websites