News and updates
Schools – forever on the top of the list

Schools is a subject that could occupy me about 75% of the time working on Life After London. For lots of people it's this issue which drives a move to a new area…it might be you find your perfect house and then have to scrabble...

Ok, so I'm going to have to admit to you now I have fire envy…and that is meant to anyone with a fire at their home. We have a fire but it's tiny and to be honest we never light it. If I lived in the countryside I'd light it...

Guest Blog: New Home – New Beginnings For a lot of households, there comes a time when your home becomes a bit of a squeeze. It could be your growing children are filling the house with toys and noise; causing clutter and making the rooms seem...

I learnt something really interesting this week – I found two people who have hidden where they live from their boss. They've kept it secret because they've moved out of London and they feel, amongst other things that they will...

When you're house hunting you've probably heard by now it's worth checking out the broadband. Slowly people are realising that those superfast speeds we get in London (on a good day with a fair wind!) aren't quite the same in...

I don't know about you but we have an endless list of things that need to be done in the house….and I'll be honest and tell you that some of the chores count as blue jobs in my opinion. Yes I know we're all very modern...

I don't know about you but I can cope with any sort of weather – hot, cold, wet or snowy but….when you have small ones in tow it just gets a bit trickier. My view is the fresh air can only do good things but with one of mine who feels...

I actually live in the area where this latest scam is being seen, and I too have had a sticker on my door – so it's particularly relevant! Beat the burglar's 'sophisticated new scam' The Daily Mail has recently featured...

I know lots of us are searching for the dream, how can we live somewhere and change our lives. When I heard this property was up for sale I just knew I had to share it with you. I really think it's idyllic….let me know if you...

I don't know about you but working from home always sounded like the perfect working day. However with more and more people making the move out of London it's actually quite a serious subject. If you're considering a long...
lifeafterlondon.com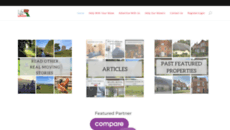 Visit lifeafterlondon.com
Online
Catch up on Lifeafterlondon.com news, updates and popular pages. It is highly rated by users from United Kingdom. Lifeafterlondon.com is a website that might be still building its audience and thus rated quite low by Alexa. Life After London provides generally secure and family-safe content, so users of all ages can visit it.
It can be hard to know where to turn when you're thinking of leaving London! We're here to help you access a wealth of local knowledge and FREE advice..
N/A
Daily visitors
N/A
Daily pageviews
2 730 600
Alexa rank
MyWOT
Lifeafterlondon.com popular pages
A Real Story of Leaving London for Bedford |

Leave your city persona behind. Without exception, I have found people kinder, more welcoming and polite and yes, more laid back. Since you've made the decision to move, assimilate.

How to Choose a Removal Company |

Whether you are moving to the next door street, another city or even another country, choosing the right removal company can make all the difference when moving

We asked our Life After London members and social media friends to recommend some pubs and I can't wait to try them out. by Belinda Aspinall | Apr 11, 2015 I was so excited to find this recipe with...
Recently updated websites