News and updates
Special Savings: A Learning Ability Evaluation Like No Other

Our success with students starts with our unique Learning Ability Evaluation. We identify strengths and weaknesses that may be affecting performance in reading, comprehension, and maths. Learning Ability Evaluation 10+ standardised measures of reading...

The Magic of Learning: Our Holiday Gift to You!

While Winter Break can provide some much-needed fun, festivities and family bonding, it's also the perfect time to maintain learning momentum, tackle an assignment with help, or get some support with a challenging subject. Our flexible schedule and one...

How to Incorporate Reading into Your Summer Routine

During the school year, reading is built into a child's day. They are reading from the board, assignment sheets and books throughout school and during homework time. Parents may feel challenged when trying to squeeze reading onto the summer schedule...

Thank-a-Thon Event | November 9, 2017

On Thursday, November 9, our staff, students, and their families will take part in our annual Thank-a-Thon event. Together, we will create thousands of colorful warm wishes showing appreciation for America's military men and women. Community members...

Solve the Math Struggle | On Cloud Nine Students Consistently Show Significant Gains

"What's 6×6 again? Is it… 35?" Conor thinks to himself while chewing on his pencil. He's been practicing his multiplication facts daily, but he just can't seem to remember them all. He tries counting on his fingers, but it's too hard to keep track as...

When the Teacher Suggests Reading Help: Summer Learning Solutions

Teachers always encourage students to read as much as they can over summer break. But if your last parent-teacher conference came with a specific suggestion—to get reading support during the summer months—you are likely considering one of the following...

Online PD for Teachers | Introductory Workshops – eLearning – Coaching

Lindamood-Bell for Schools now features online professional development for educators that is innovative, interactive and relevant for today's classroom.  Whether you're a teacher learning our research-validated programs for the first time, or an administrator...

Get the Connection: Real Help for Your Students with Dyslexia

When a student has been diagnosed with dyslexia, extra help typically focuses on phonics, or sounding out words, and spelling rules. Unfortunately, many students, even those who have had years of extra help, continue to struggle. Perhaps they sound...

Research Roundup | Students with Dyslexia

"We are committed to the ongoing analysis of our program efficacy and have the research to prove it." -Nanci Bell, co-founder Lindamood-Bell has been involved with research for over 30 years. We actively take part in peer-reviewed studies of our programs...

Summer Programs as Unique as Your Child!

Summer learning at Lindamood-Bell is individualised to meet the learning needs of each student in a short amount of time. Because it's one-to-one, we will only spend time on what your child needs. Programs we offer: Students who are currently struggling...
Lindamood-Bell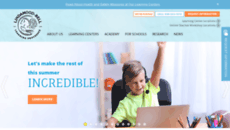 Visit lindamoodbell.com
Online
Catch up on Lindamoodbell.com news, updates and popular pages. Lindamoodbell.com has issued 1 new article this week and 10 articles this month. It is highly rated by users from USA and Canada. Lindamoodbell.com is a website attracting a fair amount of visitors (estimated traffic is around 30K visitors per month). Lindamood Bell provides generally secure and family-safe content, so users of all ages can visit it.
For over 30 years, Lindamood-Bell has been improving the lives of students by helping them reach their potential..
977
Daily visitors
1 954
Daily pageviews
358 694
Alexa rank
MyWOT
Lindamoodbell.com popular pages
Related feeds
Belle Helene, la vie est Belle Helene

Ian Bell's opinions are his own and do not necessarily reflect the opinions of Ian Bell

Erasure (Andy Bell & Vince Clarke) | Official Website

The official website for Erasure (Andy Bell & Vince Clarke), containing news, tour dates, music, videos and much more!
Recently updated websites