News and updates
Increase the Rate of Learning for Your Child: Why Daily Instruction is So Beneficial​

Those who are new to Lindamood-Bell may be more familiar with traditional tutoring and accommodations which are conducted over the course of semesters or years. Therefore, our daily instruction, that changes reading or comprehension in a short period...

The Imagery-Language Connection: Writing Tips

Book reports, essays, and even short responses, can cause frustration, panic, and, sometimes, even tears for many school age students. And it's no wonder. Writing is a complex task that requires a lot: good thinking skills, organisation, spelling, grammar...

The First Step to Summer Learning | Special Savings!

Our success with students starts with our unique Learning Ability Evaluation. We identify strengths and weaknesses that may be affecting performance in reading, comprehension, and math. Learning Ability Evaluation 10+ standardized measures of reading...

Why is My Child Struggling in School?

When school is hard for your child, it can be difficult to know what to do. Hire a tutor? Double-down on homework time? Create incentives for good grades? We encourage families to seek specific answers as to why an individual child is struggling. This...

Lindamood-Bell Academy: Who Are Our Students? | Enroll for the 2018-19 School Year

Lindamood-Bell Academy's flexible and differentiated curriculum—both in person and online—means that the Academy can be the right school choice for all types of students, including: Accelerated Learners Learners Who Need a Flexible Environment Students...

Imagine Better Homework | A Parent Workshop

If your child has a learning or attention issue, it can be tough to maintain good homework habits. Resolving to "establish a daily routine," for example, may not affect why it is difficult for a student to complete homework in the first place. They may...

Now Available Online! | The Extraordinary Lindamood-Bell Learning Ability Evaluation

Our success with students starts with our unique Learning Ability Evaluation. We identify strengths and weaknesses that may be affecting your child's school performance. Our evaluation includes 10+ standardized measures of reading, spelling, and math...

5 Tips to Make Mornings Easier

If you are dreading a repeat of last year's manic mornings, it may be time to change up your family's routine. Below, explore ways to make school-day mornings better. We've included tips for how you can encourage your child to make mental pictures of...

Enroll Now! Summer Programs for Reading, Comprehension, and Math

Summer learning at Lindamood-Bell is individualized to meet the learning needs of each student in a short amount of time. Because it's one-to-one, we'll only spend time on what your child needs. We'll start with a learning evaluation to uncover the...

We are very excited to host Leaders in Literacy, a new webinar series that features education leaders from around the country sharing their stories of successful school improvement. Please join us May 8, 2018, at 11 AM PDT / 2 PM EDT and hear from George...
Lindamood-Bell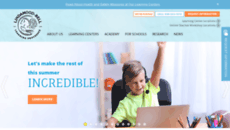 Visit lindamoodbell.com
Online
Catch up on Lindamoodbell.com news, updates and popular pages. Lindamoodbell.com has issued 2 new articles this week and 8 articles this month. It is highly rated by users from USA and Canada. Lindamoodbell.com is a website attracting a fair amount of visitors (estimated traffic is around 66K visitors per month). Lindamood Bell provides generally secure and family-safe content, so users of all ages can visit it.
For over 30 years, Lindamood-Bell has been improving the lives of students by helping them reach their potential..
2 171
Daily visitors
3 910
Daily pageviews
315 545
Alexa rank
MyWOT
Lindamoodbell.com popular pages
Related feeds
Belle Helene, la vie est Belle Helene

Ian Bell's opinions are his own and do not necessarily reflect the opinions of Ian Bell

Erasure (Andy Bell & Vince Clarke) | Official Website

The official website for Erasure (Andy Bell & Vince Clarke), containing news, tour dates, music, videos and much more!
Recently updated websites