News and updates
Internet Access Grew by 8.3% in Past Year: The Inclusive Internet Index

For immediate release Internet access grew by 8.3% in past year: The Inclusive Internet Index Now in its second year, The Inclusive Internet Index tracks the extent to which the internet is available, affordable, relevant and supportive of positive outcomes...

Samsung Leads Market for Windows Mixed Reality VR Headsets

Virtual Reality (VR) seeks to make the user a part of a virtual environment, and Augmented Reality (AR) seeks to augment the user's real-life ...

#HASHOFF Influencer Marketing Report: Influencers Value Authenticity Over Money, Prices for Influencer Posts are Unstabl...

New York, October 19th, 2017 –  #HASHOFF, the leading influencer discovery and content marketing platform, today released its second "Influencer Marketing: State of the ...

CEVA and LG Electronics Partner for Smart 3D Camera Solution 

MOUNTAIN VIEW, Calif., – October 17, 2017 – CEVA, Inc. (NASDAQ: CEVA), the leading licensor of signal processing IP for smarter, connected devices, announced today a ...

ANA Partners With Neustar to Launch Analytics Center of Excellence

NEW YORK, October 2, 2017 — The ANA (Association of National Advertisers) is launching a new resource designed to help marketers develop and enhance their understanding ...

Unleash the power of Alexa with the First Battery-Powered Speaker Created Specifically for the Amazon Echo Dot –  Meet V...

Palo Alto, CA, April 20, 2017 – Ninety7, a technology lifestyle company, today announced VAUX, the first battery-powered speaker designed specifically for the Amazon Echo ...

China's LTE Capex Sinks 16 Percent Year-over-Year Owing to China Unicom-China Telecom Network Sharing Deal

By Stéphane Téral, senior research director and advisor, mobile infrastructure and carrier economics, IHS Markit   Highlights In China, the 2G, 3G and LTE ...

AI will power 95% of customer interactions by 2025, says Servion

London, March 9, 2017: Businesses are failing to prepare for a future led by Artificial Intelligence (AI), virtual reality, augmented reality and holograms, Servion ...

AppsFlyer Releases Performance Index

This morning, AppsFlyer, issued its Performance Index, which delivers the most comprehensive ranking of the top media sources in mobile advertising. AppsFlyer's technology is ...

Worldwide, smart home households will grow more than fivefold from 90 million in 2016 to 463 million in 2021, for a CAGR...

Ovum's Smart Home Devices Forecast: 2016–21 found that the largest smart home markets will be China and the US, thanks to high availability of devices and ...
MobileFOMO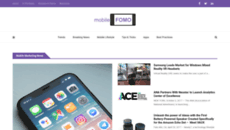 Visit mobilefomo.com
Online
Catch up on Mobilefomo.com news, updates and popular pages. It is highly rated by users from India. Mobilefomo.com is a website that might be still building its audience and thus rated quite low by Alexa. MobileFOMO provides generally secure and family-safe content, so users of all ages can visit it.
N/A
Daily visitors
N/A
Daily pageviews
3 918 778
Alexa rank
MyWOT
Mobilefomo.com popular pages
About MobileFOMO Mobile marketing is massive. Don't miss out! MobileFOMO is your source for everything mobile marketing to eliminate your fear of missing out.

Leading Mobile Marketing Companies | MobileFOMO

1550 With expected growth of better than 9% per year for the next five years, the mobile internet is rapidly becoming the place to instill digital marketing campaigns for businesses to capita...
Recently updated websites