News and updates
Kick-In Burglars Strike Orinda Residence Tuesday

Calls of suspicious vehicles cruising Lamorinda neighborhoods have peaked of late, with an Orinda residence struck by thieves who kicked in their front door and entered the home Tuesday morning. Neighbors off Moraga Way in the area of Richard Court...

Lafayette Police Logs – (Pretty Busy!)

Arrests Feb. 22 – 3:03 p.m., Shoplifting, 3500 block Mt. Diablo Blvd. Feb. 24 – 12:43 a.m., Traffic Stop, Mt. Diablo Blvd./Happy Valley Rd. Feb. 24 – 2:03 p.m., Subject Stop, Mt. Diablo Blvd./Dewing Ave. Feb. 25 – 10:08 a.m., Unwanted Guest, 350...

Fitness Center Locker Room Filming Leads To Invasion Of Privacy Arrest

From the Office of the Sheriff: On Tuesday, February 21, 2017, at about 11:40 a.m., the Office of the Sheriff was dispatched to a report of harassment that occurred at a fitness center on the 2800 block of Jones Road in unincorporated Walnut Creek....

San Ramon Police Arrest Suspected Car Thief Monday

From the San Ramon Police Department: Recently, property thefts from vehicles throughout the San Ramon Valley have increased. In response, San Ramon Police Officers have been conducting increased patrols of areas impacted by these thefts. Last night...

Yours Humanly Award Recognizes Acts Of Goodness – By Children

Yours Humanly, a Northern California-based nonprofit that provides underprivileged children in underserved communities access to quality education, has launched a first of its kind award that recognizes children for their outstanding acts of goodness...

Walnut Creek Police Looking For Electronics Rustler – With A Thing For Shoes

Announcement from Walnut Creek PD: The pictured subject has been identified as the suspect in multiple thefts of electronics in the downtown shopping area. If you know this person, please contact the Walnut Creek Police Department at (925) 943-5844...

It's A Gusher! Sheared Hydrants Create Latest Town Water Features Monday

Valley firefighters and shutterbugs were kept busy Monday as a small flurry of minor collisions triggered some not-so-minor water fountains – the sheared hydrants almost acceptable now that we are out of our drought. A semi-truck clipped a hydrant outside...

Danville Police Logs (Busier…)

Arrests Feb. 19 – 1:19 a.m., (Other Misdemeanor), 1000 block San Ramon Valley Blvd. Feb. 22 – 8:53 p.m., (Probation Revocation), Marshall's Feb. 23 – 12:54 a.m., (DUI), San Ramon Valley Rd./Sonora Ave. Feb. 25 – 9:02 p.m., (DUI), 800 block Camino...

Orinda Police Logs (Kinda Quiet…)

Arrests Feb. 21 – 9:11 p.m., (Warrants), Camino Pablo/Bear Creek Rd. Feb. 22 – 6:52 p.m., (Warrants), 90 block Scenic Dr. Feb. 25 – 12:23 a.m., (Warrants), Orinda BART Grand Theft Feb. 20 – 10:45 a.m., (From Building), 60 block Cork Tree Ln. Auto...

Local Law Enforcement Mourning Loss Of Two Of Its Own

Two law enforcement agencies are mourning the loss of two men killed while on duty in their respective jurisdictions, one an Alameda County sheriff's deputy struck by an inmate transport bus, the other a California Highway Patrol officer struck and killed...
News24-680.com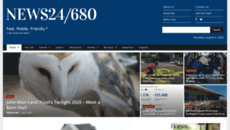 Visit news24-680.com
Online
Catch up on News24-680.com news, updates and popular pages. It is highly rated by users from USA. News24-680.com is a website that might be still building its audience and thus rated quite low by Alexa (estimated traffic is around 7.3K visitors per month). News24 680 provides generally secure and family-safe content, so users of all ages can visit it.
242
Daily visitors
483
Daily pageviews
2 344 169
Alexa rank
MyWOT
News24-680.com popular pages
Recently updated websites