News and updates
December Degustabox | Subscription Box Review

Receiving the December Degustabox was like receiving an early Christmas present full of surprises. Only this particular present, I had to share. As usual, I was keen to tuck in as soon as it arrived! There was a good mix of food & drink, and both...

Our December favourites | Parties, crafts, and food

Knock knock. Whispers.. Is anybody there? Hello my loyal readers – long time, no speak! Or should that be write? Anyhow, it's been a while. A very long one. I don't think I've written 'properly' for over a month. I had planned to get everything crammed...

Around the world in 2018 | a luxury travel bucket list

Photo by Christine Roy on Unsplash Though the title says, as much as I would love to travel around the world in 2018, it most definitely is not going to happen. In fact, we haven't even travelled out of the UK for almost ten years. So the boys have never...

Festivity with Prestige Flowers | Review

One of my favourite sights in my house is a bunch of flowers on display. I think it's such a welcoming sight for guests, and you can't beat the smell of a fresh bunch. I don't get bought flowers very often (hint, hint, Husband), so I usually buy them...

November Degustabox | Subscription Box Review

I say it every month, but I was really looking forward to receiving the November Degustabox, as the closer it gets to Christmas, the more likely to be some lovely Christmassy treats in there! There was a good mix of sweet and savoury in this one, with...

The Food Subscription Gift Guide

Whether you're searching for Christmas gifts for someone hard to buy for, you're a last minute gift buyer, or you're looking for a gift that lasts longer than the Christmas festivities; a food subscription gift may be the choice for you. I'm a bit of...

7 Tips on Reducing Waste and Saving Money

Photo by Fabian Blank on Unsplash Sometimes, saving money in your home isn't just about making sure that you budget your expenses, or avoid paying extras for luxuries. While it's important to think carefully about how you spend your money, it's also...

The Ultimate Christmas Dinner Guide | with HelloFresh

Up until a few years ago I'd never cooked a Christmas dinner; never even thought about it, in fact. Since The Husband & I met almost thirteen years ago, we'd always alternated Christmas & Boxing Day between our families; so there was no need...

Super quick & easy tasty tomato soup | Recipe (Slimming World friendly)

Now autumn has well & truly made itself shown and winter is on the way, I've been eating a lot of soup. I make my soup in bulk, portion it up, and freeze it. I usually have a stock of at least three different soups in there; that way I'm not eating...

Simple Things You Can Do to Keep Your Desk Tidy

Photo by Kari Shea on Unsplash A tidy desk is a tidy mind. When you have a lot of things to do and you need to be absolutely focused to do them, having a clean and well-organised workspace is a must. Even the most challenging tasks will be easier to...
Stacey in the Sticks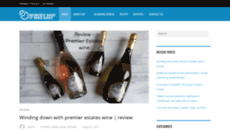 Visit nobodysaiditwaseasy.co.uk
Online
Catch up on Nobodysaiditwaseasy.co.uk news, updates and popular pages. Nobodysaiditwaseasy.co.uk has issued 2 new articles this week and 2 articles this month. It is highly rated by users from United Kingdom. Nobodysaiditwaseasy.co.uk is a domain not yet properly estimated by Alexa. Nobodysaiditwaseasy provides generally secure and family-safe content, so users of all ages can visit it.
A lifestyle & food blog, from our new life in the country.
N/A
Daily visitors
N/A
Daily pageviews
N/A
Alexa rank
MyWOT
Nobodysaiditwaseasy.co.uk popular pages
Recently updated websites