News and updates
Don't Look Back and Regret What You Didn't Do – Aging Care Services Are Growing

It's no doubt that the most wise people on earth tend to be those who have celebrated the most birthdays. They have experienced much and can offer much when it comes to advice on living a great life. If you talk to anyone who has spent any fair amount...

A Powerful & Emotional Display Of Gratitude That Will Make Your Day!

Although this video clip dates back to 2013, it is an amazing display of emotion and gratitude. Steve Harvey breaks down in this video after being surprised by his crew members with a couple surprise guests. Gratitude is one of the most powerful emotions...

5 Ways To Avoid A Negative Customer Experience In Your Aging Care Business

In today's article, you'll learn why people are more willing to share a negative experience rather than a positive one and how you can drastically improve your customer's experience by implementing the five methods listed below: We've all been customers...

In this post, I want to take a slight detour from the normal information about caregiving, home care marketing, home healthcare, and home hospice. That said, this post can dramatically improve your success in your home care business if you implement...

Pam Witt's 4 Pillars To Goal Achievement

Being female and growing up on a farm among many cousins, most of which who were boys, I learned A LOT of things especially when it comes to overcoming adversity. Whether shooting a BB gun or performing many other farm activities, I was always learning...

Use This Formula To Reach Higher Levels Of Success (No Matter Who You Are)

Why is it that so many people continue to struggle, while some people experience success after success? This is a question that many of us have asked ourselves at some point in our lives. Some ask this question a lot. What if I told you that there...

Using Inbound Marketing In Your Aging Care Business

There is a lot of importance when it comes to using inbound marketing in your aging care care business, whether you are offer home care, home health, or hospice services.  While inbound marketing hasn't totally annihilated outbound marketing strategies...

Providing Valuable Information Is Vital To The Success Of Your Home Care Marketing Strategy

Marketing your aging care business may have seemed challenging in the past, but with advancement in technology, you have a much better chance to be seen. Never in the history of business has your home care marketing had the potential to make such an...

How To Use Social Media To Market and Grow Your Home Care Business

How To Use Social Media To Market and Grow Your Home Care Business With the obvious popularity of the constantly-changing technology for the past decade, many companies are trying to play 'catch up' and are forced to re-assess the efficiency of their...

Ellen Albertini Dow, 'The Wedding Singer' Rapping Granny, Dies At 101

Today we lost a good soul Ellen Albertini Dow, best known for her rendition of "Rapper's Delight" in the  1998 Adam Sandler movie The Wedding Singer, passed away last night, as confirmed by Deadline. She was 101. She appeared in many other movies...
Best Home Care Marketing|Home Care Business|Home Care Marketing Systems|Home Healthcare Marketing Systems|Aging Care Marketing| Home Care Advertising|...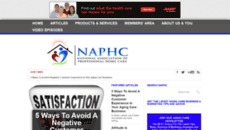 Visit professionalhomecare.org
Online
Catch up on Professionalhomecare.org news, updates and popular pages. Professionalhomecare.org is a domain not yet properly estimated by Alexa. Professional Home Care provides generally secure and family-safe content, so users of all ages can visit it.
N/A
Daily visitors
N/A
Daily pageviews
N/A
Alexa rank
MyWOT
Professionalhomecare.org popular pages
Related feeds
Live life the way you choose

A leader AV system Provider/Integrator operated in 1997, based in Saudi Arabia committed to offer specialized integrated Audiovisual and low-current systems with over 100 projects for government insti...
Recently updated websites