News and updates
We had two very dynamic days at the "Master" Congress Center at the" ITKonekt" job fair. We are very happy that we had the opportunity to talk to several hundred visitors of the fair and conference. We believe that some of the people we met here will...

Prozone at "eRazvoj" conference

Association "eRazvoj" organized the 8th annual conference entitled "Where are we and where we should be using of modern ICT". Prozone, as a member of the association, participated as a platinum sponsor of the conference. Slobodan Vujasinovic, CEO of...

eDocumentus – Ready for IBM Cloud and Smarter Infrastructure

We are proud to announce that our product Document Management System – eDocumentus for IBM Maximo completed the Ready for IBM Cloud and Smarter Infrastructure software validation. It means that our solution for management documentation is compatible...

Prozone – silver sponzor of IoT Week Belgrade 2016

Prozone was a silver sponsor of the IoT Week, which was held in Belgrade from 31st May to 2nd June. Prozone presented its IoT solutions in the fields of agriculture and energy efficiency, as well as experiences in the implementation of asset management...

Presentation of Prozone's software at the International Energy and Investment Days

Stevo Milošević, Business analyst from Prozone, led a thematic segment about ELEE software for automatic categorization of objects using reference data for energetic efficiency and conducting an energy audit. Presentation was held as a part of the Ceremonial...

If you are looking for a job as a software developer, or you have a technical background and want to become a business analyst, visit us at KONTEH2016, job fair which will be held from the 16th to 17th March at the Faculty of Technical Sciences in Novi...

Need insurance? Let us collaborate!

Prozone developed Insurance Collaboration Platform and simplified communication between insurance companies, their agents, brokers and customers. Like every modern industry, the insurance industry is very dynamic, involving numerous parties. Regulations...

eDocumentus in the Middle East

Prozone has created a new version of eDocumentus – (Document Management System) for the Middle East market. From now on, users in this region will be able to create and manage business documents and processes using eDocumentus in Arabic. Software localization...

Prozone implemented it's DMS in new Maximo v7.6

Last month, IBM has released a new version of Maximo EAM system – Version 7.6. This edition supports functionalities which allow use of new technologies and trends, such as analytics, BigData, mobile solutions and cloud in processes related to the performance...

New IBM Maximo Asset Management V7.6 has been released. Check out new Maximo functionalities: • Improved user experience • Analytics enhancements • Built-in Mobility Capabilities which enables mobile access to Maximo More information about new Maximo...
Prozone - IT Solutions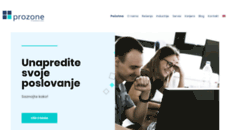 Visit prozone.rs
Online
Catch up on Prozone.rs news, updates and popular pages. It is highly rated by users from Serbia. Prozone.rs is a website that might be still building its audience and thus rated quite low by Alexa. Prozone provides generally secure and family-safe content, so users of all ages can visit it.
Prozone is a software development company which offers development and implementation of information technologies. With personnel coming from various backgrounds in this field, the company provides a...
N/A
Daily visitors
N/A
Daily pageviews
5 424 985
Alexa rank
MyWOT
Related feeds
Performance Solutions for Professional Sport

SW3 Solutions is a full service IT Solutions provider with development center in Lahore, Pakistan. The company is dedicated to providing professional Web Development, E-Commerce Solutions, Application...

Security Solution and IT Solution Sri Lanka

Live U Security Solution and IT Solution Sri Lanka
Recently updated websites