News and updates
Im a gravel racer now Part 2 (the DIRT)

Early to bed, early to shred! Waking up in a new place with the prospect of 200 miles of unknown is definitely a little daunting. But like the racing itself you compartmentalize things in order to do them successfully without. Ring overwhelmed. Wake...

As soon as I stand up out of my appropriately cramped airline seat I can feel the Midwest charm. I cruise to get my bag out of the overhead bin and meet smiling suntanned faces decked in turquoise every jewelry. I'm a born and bread southern man but...

Choices #3-Grip it to rip it!!

One of the coolest things about the cycling industry is its relatively small size. Behind nearly every product is a hand you can shake and companies that seem large in our industry are typically only family driven affairs kept productive and successful...

Publisher William Feather said "one way to get the most out of life is to look upon it as an adventure." When I found out I was nominated for Blue Ridge Outdoors "Adventurer of the Year" a few months ago I immediately began to toss around in my head...

I occupy a funny space in the cycling world. Having been described as "pro singlespeeder" by some; the role I play in the cycling world may be B list credits at best. Any attempt to qualify and classify what I call "a days work of fun and games" ultimately...

Living now in Georgia Emily and I have had to make a lot of changes. Where we get groceries, who works on our cars, what dentist we use, regular riding and training routes; all of the stuff you start to take for granted when you aren't moving around...

So La Ruta de Los Conquistadores. The "hardest bike race in the world" they say. I haven't done all the bike races, so I cant comment on that. But if you like your bike games with a extra side of adventure then La Ruta needs to be on your list. I absolutely...

While the Fools Gold 100 was my last NUE series race for the year its always apparent to me that there isnt really an "end" to this season. I will take some active time fully off the bike following LaRuta in November but really as soon as the Endurance...

Funny; my last piece started with a plane flight, of a very different kind. I'm starting this tucked into an economy cabin, helmet in a soft bag in my lap, shoes and carry-on neatly stowed above me. I'm on my way to the Hampshire 100. A race I have never...

Almost home after a week away. One more plane ride. One more sequence of filing in, sitting down, cramming myself into a seat and descending into a book or phone or conversation until we touch back down. The tires hitting the pavement triggers everyone...
Gordon Wadsworth, Quadsworth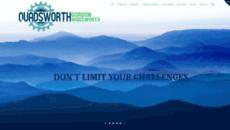 Visit quadsworth.com
Online
Catch up on Quadsworth.com news, updates and popular pages. Quadsworth.com is a domain not yet properly estimated by Alexa. Quadsworth provides generally secure and family-safe content, so users of all ages can visit it.
Gordon Wadsworth, Professional Mountain Biker, quadsworth, single speed, single speed champion, NUE.
N/A
Daily visitors
N/A
Daily pageviews
N/A
Alexa rank
MyWOT
Quadsworth.com popular pages
Recently updated websites