News and updates
The Royal Oak Chamber of Commerce is now accepting nominations for the annual Royal Oak Community Awards.   Award categories include the following:  Youth Achievement, Citizen of the Year, Business Person of the Year, Community Spirit and Residential...

For the 2016-2017 school year, Royal Oak Schools will again use an online procedure called "Annual Registration" for the completion of back to school forms. Completing this process will be required for all returning students. 

Non-Homestead Millage Restoration Proposal

On June 9, 2016, the Board of Education voted to place a non-homestead operating millage restoration proposal on the November 8, 2016, general election ballot.  For more information click here.  

Annual Registration for 2016-17

For the 2016-2017 school year, Royal Oak Schools will again use an online procedure called "Annual Registration" for the completion of back to school forms.

2016 State of Schools Address now Online

Click here to view the video of Superintendent Shawn Lewis-Lakin's 2016 State of the Schools Address.

We have a long-standing protocol in place for adding supplemental corrosion control treatment to the water supply as it enters all school buildings. The treatment process is monitored quarterly. We have done periodic water testing in our buildings to...

Beginning in mid-April, the Michigan Department of Education (MDE) will administer for the second year the Michigan Student Test of Educational Progress (M-STEP). Like last year, the M-STEP will be given online and will measure current student knowledge...

Learn about the ROS Special Educ Parent Advisory Committee

A committee of parents whose children receive Special Education Services.  With goals to provide networking opportunities, create awareness, and make positive contributions to Royal Oak Schools.  Click here to visit website for more information.  

ROHS Band & Orchestra February Trip

The ROHS Band & Orchestra participated in the 2016 Disney Youth Program.  The program provided students with hands on learning and the trip culminated with all 63 students marching down Main Street in the Magic Kingdom.  Click here to see video....

Process for Determining School Closings Due to Severe Weather Conditions

Because of the importance every day of student instruction has for children, the decision to cancel a day of school is made very deliberately and carefully. 
District Spotlights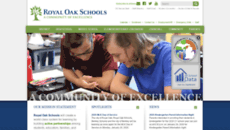 Visit royaloakschools.org
Online
Catch up on Royaloakschools.org news, updates and popular pages. It is highly rated by users from USA. Royaloakschools.org is a website attracting a fair amount of visitors (estimated traffic is around 7.4K visitors per month). Royal Oak Schools provides generally secure and family-safe content, so users of all ages can visit it.
244
Daily visitors
489
Daily pageviews
708 291
Alexa rank
MyWOT
Royaloakschools.org popular pages
Upton Elementary Our mission is to ensure high levels of learning for ALL students.   Upton Elementary School's staff, parents and community work together to ensure that every student is academically,...

Browse website in: ArabicBulgarianBurmeseCatalanChineseCroatianCzechDanishDutchEnglishFilipinoFinnishFrenchGermanGreekHebrewHindiIndonesianItalianJapaneseKoreanLatvianLithuanianNorwegianPolis...

Facility Use/Rental facility use/rental information Royal Oak Schools welcomes the use of their schools and facilities which are available to the community on a rental basis. Information on renting ou...
Related feeds
Profit Spotlight Demo | UNOFFICIAL Profit Spotlight Review

A SECRET Piece of Software That Shines a SPOTLIGHT On The Biggest Money-Making Products on Amazon (FREE For A Limited Time Only)

Spotlight News is your source for Local News, Sports, Election Coverage, Albany, Schenectady, Saratoga, Troy, Capital District, Region, NY

MN Lacrosse Hub | High School Boys' & Girls' Lacrosse News, Scores & Standings N...

News with tag(s): Boys', MBSLA, MSHSL Boys, Featured, Around the State, The Full Nelson, Spotlight Games, Community, Junior Varsity, Varsity, Under-15, 9th-10th Grades, MSHSL Girls, Under-11, Under-13
Recently updated websites