News and updates
SVC Earns PCI Compliance for Customer Transactions

Sales Verification Company is proud to announce the completion of its PCI Compliance testing! It's a big step forward in our mission to continually meeting the needs of our clients and position the company for future growth. Below is the press release...

 VERIFICATION TOOLS AID REGULATORY EFFORTS

State officials in Nevada are currently considering best practices and developing guidelines for a retail energy choice initiative to be placed on the ballot in November. They're closely considering the experiences of states that have already allowed...

TPV Ninja Adds Paperless Fulfillment Function

TPV Ninja, the groundbreaking application that's transforming the door-to-door sales channel, just got even better. Now the web-based third party verification tool features a paperless solution to deliver critical onboarding documents directly to the...

'All Hands on Deck' Approach Keeps Hold Times in Line

The mark of an expert in any field is an uncanny sense for the way events will unfold. It comes with experience, and there is no substitute for it in reaching your goals or running a sharp operation. Third party verification is no different. At Sales...

Remote Monitoring Can Save Your Brand

Many companies employ outsourced organizations to boost their sales efforts or handle the customer care function. It's a simple matter of resources: easier to hire a professional than to try to do everything yourself. But how do you really know if your...

TPV Ninja Packs Serious Security Punch

Sales Verification Company, a leader in live operator and automated third party verification services, has developed a web-based tool that sets a new standard of security and customer convenience for in-person verifications. TPV Ninja was built specifically...

Welcome Calls Lay Strong Brand Loyalty Foundation

Third party verification is an essential element of the sales process. It cements the buying decision and goes a long way toward eliminating future customer misunderstanding. It's also, by design, fairly impersonal. The TPV script is built on regulatory...

Live Monitoring Enhances TPV Function

Sales Verification Company offers the finest live operator third party verification in the industry, complementing our clients' sales process and ensuring complete customer understanding. Not only is TPV required in many industries, it's also a common...

Customized Reports and Data Collection Improve TPV

Here at the Sales Verification Company, we know that every client has different needs. That's why we offer customized reports to so many customers. When clients use customized reports, they are able to process data points quickly and effectively, while...

Regulators Push Toward Increased Verification

In an ongoing effort to increase consumer protection safeguards in the retail energy industry, two regulatory entities have recently floated a double-verification requirement. In a recent hearing of the Illinois Commerce Commission concerning new rules...
Sales Verification Company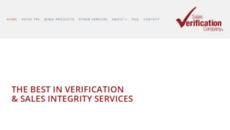 Visit salesverifications.com
Online
Catch up on Salesverifications.com news, updates and popular pages. Salesverifications.com has issued 1 article this month. It is highly rated by users from Nigeria. Salesverifications.com is a website that might be still building its audience and thus rated quite low by Alexa (estimated traffic is around 4.9K visitors per month). Sales Verification S provides generally secure and family-safe content, so users of all ages can visit it.
The Sales Verification Company focuses on providing the best Third Party Verification available anywhere. We provide TPV services with live operators via conference call or callback and completely...
161
Daily visitors
483
Daily pageviews
7 397 963
Alexa rank
MyWOT
Salesverifications.com popular pages
Recently updated websites