News and updates
How Businesses Get Benefited by Corporate Social Responsibility?

Corporate Social Responsibility also known as corporate citizenship is the sense of conscience that a corporation integrates with its business model. CSR initiatives in India demonstrates to both consumers and the media, the selfless social interest...

Inaugurating Centre of Excellence ( Skill Development CSR Initiative in India ) by DAFFPL and SeedCSR

The need of a skilled person is the most important thing which exist in the today's globalized world. Our country is also not far behind in fulfilling this task of making every effort to make its youth skilled and talented. Apart from the policies formulated...

Promoting Education in India for a Better Future

Education is the key factor that decides our quality of life in future and therefore it holds a lot of value for everyone. Education and skill development are something on which every organization should focus. Promoting education in India should be...

CSR for Women Empowerment Equipping Women with livelihood generation

We have come far from the time when females were meant to stay at home. They were neither given chance to enter educational institutions, nor they were allowed to work. In this era, women are no less than males and hence have entered every profession...

Inaugurating MMU – Special Initiative of TKM with Seed CSR

On the 19th November 2017, Toyota Kirloskar Motor along with SEED CSR inaugurated a Mobile Medical Unit [MMU] and conducted a specialized health camp at Ramnagara. The whole event was conducted and managed by the field team of SEED CSR. The event was...

Why CSR matters to your business?

In the corporate sector, the role of Corporate Social Responsibility (CSR) is as pivotal as some other business speculations or developmental arrangements for the benefaction of an organization. There are plenty of routes by which the organizations could...

You can completely rely on a Good Corporate Social Responsibility Agency!

CSR is a broad area which still is in need to gain sufficient attention. It is beneficial for business and for society as well, but only if a CSR project is implemented in a planned way. Increasing importance of Corporate Social Responsibility Agency...

Let's make a difference through CSR for Women Empowerment

Empowering women is not an overnight process. It needs a lot of consistent effort because very few women are educated enough to stand tall in front of men. We have now more organizations realizing the need of promoting gender equality and so coming forward...

Supporting Swachh Bharat Abhiyan through CSR initiatives

All of us have grown up by hearing instructions about keeping our surroundings clean. Am I right? Of course your answer must be yes, because beside our parents and teachers, even our school books also had lessons on cleanliness. But have you ever wondered...

Birlasoft CSR Initiative with Solution to Stubble Burning

India's overall socio-economic development is based on multiple factors which require active participation from various sectors, viz. Government, Private or Non-Governmental Organization (NGO). Our agricultural sector is one such area that requires high...
Seed CSR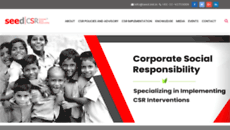 Visit seed.ind.in
Online
Catch up on Seed.ind.in news, updates and popular pages. It is highly rated by users from India. Seed.ind.in is a website that might be still building its audience and thus rated quite low by Alexa (estimated traffic is around 1.8K visitors per month). Seed provides generally secure and family-safe content, so users of all ages can visit it.
SEED CSR is a leading CSR implementation Agency in Delhi. Our primary initiative includes promotion of education, skill Development in rural areas and providing quality Healthcare etc..
60
Daily visitors
483
Daily pageviews
4 009 395
Alexa rank
MyWOT
Seed.ind.in popular pages
Senior Manager - Business Development - Seed

Senior Manager - Business Development

Swapnadeep a Post Graduate (Marketing) comes with over 9 years of experience in Market Research & Client Servicing.He has worked in both Rural & Urban research operations and analysis.He has hands on ...
Related feeds
csr bytes | all things csr

Internet platform on corporate social responsibility (CSR): news, directory, search, literature, Nachrichten, Aktuelles

EatSeed | Your Source for Super Seeds

Your Source for Super Seeds: chia seeds, flax seeds, pumpkin seeds, sesame seeds, hemp seeds, sunflower seeds.