News and updates
Thinking You're Beyond God's Ability to Save?

Woman at the Well - Rome Catacombs Most Christians are fully aware of the record of Jesus' interaction with the Samaritan woman at the well in Sychar, recorded in John's gospel, chapter 4. As I was reading this again, only God knows how many times,...

First I would like to say Merry Christmas to all! Christmas is the annual celebration Christians all over the world recognize as the time when God stepped into the world of humanity to be like us. Yes, the celebration of the First Advent of Christ, Christmas...

Is Not Life a Series of Waits? Enduring Life-Altering Events

When asked as a pastor, to express with sincerity the lingering trauma that consumes the soul when a life-altering event makes its appearance, I would use the word "Numbness" to describe it and I am not alone. Many people describe the after-effects of...

Lighthouse or Foghorn? The Christian Relies on Both!

Lighthouse and Foghorn - Dreamstime Your word is a lamp to my feet And a light to my path. Psa. 119:105. Fog horn or lighthouse, which is best? Both are used to warn of craggy rocks, beaches, and coral reefs, all dangerous areas for the mariner. These...

When Prayer Confronts an Unchanging God

Christians need to get used to the idea that since the Lord is immutable, or unchanging, this also includes His will. We need to realize that in any situation, in the end, His will is what will be accomplished. In the Garden of Gethsemane, shortly before...

God's majesty is never ending This topic is not a new issue. It has been written about by theologians much smarter than I on numerous occasions. The reason I am taking it up, is because there are still articles and books being printed that would like...

Refugee's and the Christian Responsibility

The refugee crisis in our world today has sparked a lot of talk concerning the Christian's responsibility toward foreigners. Because it seems to be a touchy subject for some, I would like to come at it from a non-biased point of view. Pointedly, I want...

Life's Reminisces and Future Glory

The image above reminds me of my childhood Kansas. Every winter my brothers and I would go down to a wooded patch behind our home where a low-lying seep would freeze over in winter to make our very own skating rink. We were not wealthy enough to have...

To all my fellow veterans, active, retired, and having served, I salute you for your gallantry, professionalism, ethic, heroism, sacrifice, and love for the our nation. It has been your dedication to God and country that has compelled you to step up...

The Sifted Heart and It's Lord

The "Prince of Preachers," Charles Spurgeon, was not a stranger to spiritual sifting in his day. He once wrote of how the Bible speaks of it in the following way: "For, lo, I will command, and I will sift the house of Israel among all nations, like...
Truth Inspires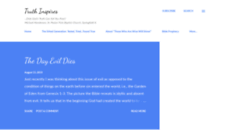 Visit truthinspires.com
Online
Catch up on Truthinspires.com news, updates and popular pages. It is highly rated by users from USA. Truthinspires.com is a domain not yet properly estimated by Alexa. Truth Inspires provides generally secure and family-safe content, so users of all ages can visit it.
<em>...Only God's Truth Can Set You Free!! <br> Michael Henderson, Sr. Pastor First Baptist Church, Springfield IL </em> .
N/A
Daily visitors
N/A
Daily pageviews
N/A
Alexa rank
MyWOT
Truthinspires.com popular pages
<em>...Only God's Truth Can Set You Free!! <br> Michael Henderson, Sr. Pastor First Baptist Church, Springfield IL </em>
Related feeds
Truth Seeker Forum - #1 Community for Truth Seekers

Truth seeker forum community. Truthers who seek the truth behind UFOs, secret societies, the paranormal, Anunnaki and much more.

The truth writer was created to give the readers insights of the writers beliefs and his continuous journey to find the truth in all things.

The Truth About Cars is dedicated to providing candid, unbiased automobile reviews and the latest in auto industry news.
Recently updated websites