News and updates
Yesterday marked the dawn of a new era of Turbo Bocce … the indoor era! Unlike the fully developed and extremely popular outdoor league, this indoor iteration is bound to be a continually adapting work in progress for a while … but that doesn't mean...

Syracuse's most social sport is back in January with our unique brand of creative and fun league bocce play. Here's how it works, sign up to join the league, then join us on January 9th at All Star Alley in Destiny USA anytime between 5:30-7:30 to learn...

Indoor Bocce League Rules – Input Needed!

Going into our first indoor bocce season we are determined to cook up the kind fun and unique experience you expect from Turbo Bocce, but to make sure we get everything right we need your input so leave a comment!!! The philosophy is simple, we want...

You're the next Griff Sanders … who is Griff Sanders?

If you came to our indoor bocce open house, you got to watch the movie Blackball – a comedy starring Vince Vaughn and James Cromwell based on the true story of a bocce player who received the longest ban in sports history. Bryan Mullane receives his...

First the big news … Turbo Bocce WILL have an indoor bocce league this winter! Its going to start January 9th. This league will involve both traditoinal court bocce and table bocce and we will be giving out arcade credits as prizes weekly! Tuesday's...

What is table bocce?  Once you hear our big announcement on 11/3o you are going to want to know. The short answer is, its bocce ball played on a pool table with billiard balls and pool cues.  Of course, I rarely just give the short answer …  So here...

When: Tuesday 10/24 at 6pm Where: All Star Alley and Tavern – Destiny USA, 3rd Floor Canyon Area What: Indoor bocce and table bocce (bocce played on pool tables) How Much? : Free! I've been getting asked a lot lately about what the plans are for...

2017 Triple Crown Point Totals

As bocce season winds down, its time to give out the final triple crown standings for 2017. The triple crown of bocce consists of the three biggest and most competitive annual bocce tournaments held in Syracuse, and is comprised of a one on one tournament...

Syracuse Italian Fest Bocce Tournament Recap

The centerpiece of the Syracuse Italian Festival is a double elimination 4 on 4 memorial bocce tournament which goes from approximately 9am to 5pm on Saturday and usually builds some fairly impressive drama as it unfolds. If you don't know much about...

First things first . . . I bet Bryan doesn't even know that he was featured on the Global Bocce website as "The Best Bocce Player in Syracuse." Its nice to know that the bocce world is paying attention to the important work we do! I came across this...
Turbo Bocce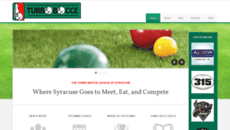 Visit turbobocce.com
Online
Catch up on Turbobocce.com news, updates and popular pages. Turbobocce.com has issued 1 article this month. It is highly rated by users from USA. Turbobocce.com is a website that might be still building its audience and thus rated quite low by Alexa. Turbo Bocce provides generally secure and family-safe content, so users of all ages can visit it.
Where Syracuse Goes to Meet, Eat, and Compete.
N/A
Daily visitors
N/A
Daily pageviews
7 259 392
Alexa rank
MyWOT
Turbobocce.com popular pages
Tuesday Team Stats Latest Tweets @ccarlsononSU Well damn. Sucks for this year but perhaps Sidibe will get the PT he needs to step up and be dominating next year for us. August 28, 2017 1:07 pm

Preseason Recap We had a huge turnout on Tuesday to the point where 16 sets of bocce balls were all being used at once! Everybody in attendance fell into one of two categories. The new people interest...
Recently updated websites