News and updates
Event alert – "India UVM Day" on Apr 24, 2018

For all the Design-Verification engineers out there in India, an important event alert! As a country with maximum number of Design Verification engineers in the world, there is more reason to cherish – The "India UVM Day" is here in Bangalore on 24-Apr...

DVTalk – Apr'18: VLSI Career workshop, IEEE UVM and more

Our next episode of DVTalk is here! Welcome to DVTalk April-2018. In this episode we are thrilled to partner with leading VLSI & EDA companies and standard committee to bring you the latest in this field. It is free to attend, but registration is...

Exciting times in the world of VLSI Design-Verification!

To all our readers, sorry for the silence over last few quarters. Our content writers had moved on and our funding team got busy with other projects. So here we are at a crucial period of time in this world of Design-Verification. With new standards...

Hardware-Assisted Verification seminar – Aldec, CVC & IISc – notes

Aldec, Inc., an industry-leading Electronic Design Automation (EDA) company recently hosted a technical seminar on "Hardware-Assisted Verification" in Bangalore, India on Sep 08, 2016. The full-day event had multiple high-profile speakers from the industry...

Anupam Bakshi & DVCon India countdown with Ajeetha

DVCon India is being organized for third year in a row. It has been made possible thanks to some dedicated hard-work by passionate leaders in this industry. One of the key members of DVCon India team since 2014 is Anupam Bakshi, CEO at Agnisys, an EDA...

Tom Anderson & DVCon India countdown

DVCon India has made deep connections worldwide since its inception back in 2014. One of our friends who has helped the show time and again is Tom Anderson. We are glad to bring our next issue of this popular DVCon countdown series with Tom Anderson...

DVTalk Aug 2016 – VLSI industry & UVM adoption

VerifNews is glad to announce  a new #DVTalk session titled: VLSI industry & UVM adoption Brief agenda: 1.       VLSI industry overview . 2.       UVM apps and open-source approach (Courtesy: www.go2uvm.org) 3.       Hidden gems of UVM debug This...

Karen Bartleson, IEEE president-elect 2016 & DVCon India countdown

Literally everyone in the electronics industry is aware of IEEE. Though may not have been deeply involved, for sure every electrical, electronics engineer's professional life has been touched by IEEE. IEEE is the world's largest technical professional...

Dave Kelf, OneSpin & DVCon India countdown

We are glad to bring our next issue of this popular DVCon countdown series with Dave Kelf, VP of Marketing at OneSpin solutions.       Counting Down To DVCon India Below is a brief chat with Dave Kelf (DK),t hat our VerifNews (VN) team recently held...

Debug automation: PinDown gets to file-level granularity in isolating bugs

Debug is one area that requires automation much more than available today. With Verdi's NPI and emerging DDI (Debug Data Interface) becoming popular, third party "apps" to solve common debug problems are emerging fast in the market (e.g. RTGen from VerifWorks...
Verification News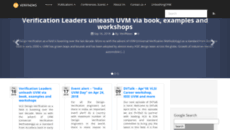 Visit verifnews.org
Online
Catch up on Verifnews.org news, updates and popular pages. It is highly rated by users from India. Verifnews.org is a domain not yet properly estimated by Alexa. Verif News provides generally secure and family-safe content, so users of all ages can visit it.
Covering ASIC, FPGA Design Verification across the globe.
N/A
Daily visitors
N/A
Daily pageviews
N/A
Alexa rank
MyWOT
Verifnews.org popular pages
Recently updated websites