News and updates
Amazing Apple Picking Experiences at This Local Orchard

Living out in rural Indiana, there are certain times of the year that are my favorites and one of them is harvest time. There isn't anything better than getting your produce right from the farm. It just tastes better! Luckily, here in Huntington County...

4 Activities for an Amazing Active Outdoor Experience

Party Barges on Salamonie Lake What better way to get out on one of the top ten largest lakes in the state than on a party barge complete with 20-25 of your best friends? We can't think of one either. Rent one of the barges from Pirates Cove Marina...

Enjoy this Slice of American Nostalgia- Head to the Drive-In

It's so hard these days to come up with new things to do with the kids on a weekend. But one of the best things we've found for weekend fun is watching movies at the drive-in. My parents never took me to the drive-in movies when I was a kid. We had heard...

Conquer the Flying Squirrel at Zip Timber Lake

Every once in a while, it's good to get out of our comfort zone and try something new. Well in this case, I decided to put my abilities and fears to the test and signed up for the 8 zip line full adventure course at Zip Timber Lake in Huntington and...

Local Waterways Create Perfect Backdrop for Trails

I don't know about you, but I love the warmer months of the year and as soon the temps are up I'm ready to find ways to be outside in nature. One of the most enjoyable and simplest activities that you can do in this area to enjoy nature is to hit one...

Why Do We Love La Dolce Vita? Let Us Count the Ways.

La Dolce Vita 165 S. Main Street, Roanoke Website     Facebook     Instagram La Dolce Vita in Downtown Roanoke is so much more than a place for gourmet food and retail items, but rather a fabulous blending of all the amazing talents and interests...

5 Amazing Art Galleries in Huntington County

When you think of fine art, your first thought might not be of Huntington County, but a trip around to our amazing galleries will have you convinced. We had an amazing time visiting all the galleries and seeing all the beautiful pieces of art. What we...

Zip and Sip in Huntington County- Four Days of Action Packed Fun

If you are a fan of enjoying the outdoors, getting wet, dining in nationally-featured restaurants , soaring through the trees and sipping on award-winning wines, then you need to DO MORE in HUNTINGTON COUNTY. We've assembled a four day itinerary that...

Try These Delicious Vegetarian Options in Huntington County

Guest Blogger: Sarah Gruenewald, HU Intern Whether you eat your veggies for the animals, the planet, your health, or just the taste, there are plenty of options in Huntington County to eat green(er). Did you know: People who are opting for plants for...

Super Eats for Your Super Bowl Get Together

Why stress out over Super Bowl snacks when there are many great food options right here in Huntington County. We thought we would pull together a list of tasty suggestions so that you can just relax on the day of the big game. We recommend that you call...
Huntington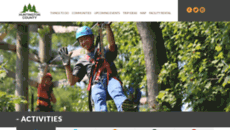 Visit visithuntington.org
Online
Catch up on Visithuntington.org news, updates and popular pages. It is highly rated by users from USA. Visithuntington.org is a website that might be still building its audience and thus rated quite low by Alexa. Visit Huntington provides generally secure and family-safe content, so users of all ages can visit it.
N/A
Daily visitors
N/A
Daily pageviews
14 139 795
Alexa rank
MyWOT
Visithuntington.org popular pages
September 27 @ 10:00 am Featured image:"Timothy, Noble County, IN" by Catherine Blyth.  Crestwoods Frame Shop and Gallery will feature the paintings of Catherine Blyth and the clay art of Elizabeth Wa...

Shopping & Retail | Huntington

Welcome to The Trove, a creative collaboration between friends.  Each of us expressed an interest in owning a retail store, but couldn't meet the demands of running individual brick and mortar shops o...

Voted Best Winery Experience in Indiana in 2016. Two-EE's Winery is conveniently located just 15 minutes from Fort Wayne on US 24 and is open daily from 11 a.m. to 7 p.m. for tastings. Grab a drink or...
Related feeds
RSS Feed for Huntington Toyota's Blog

The blog of The Huntington Library, Art Collections, and Botanical Gardens
Recently updated websites